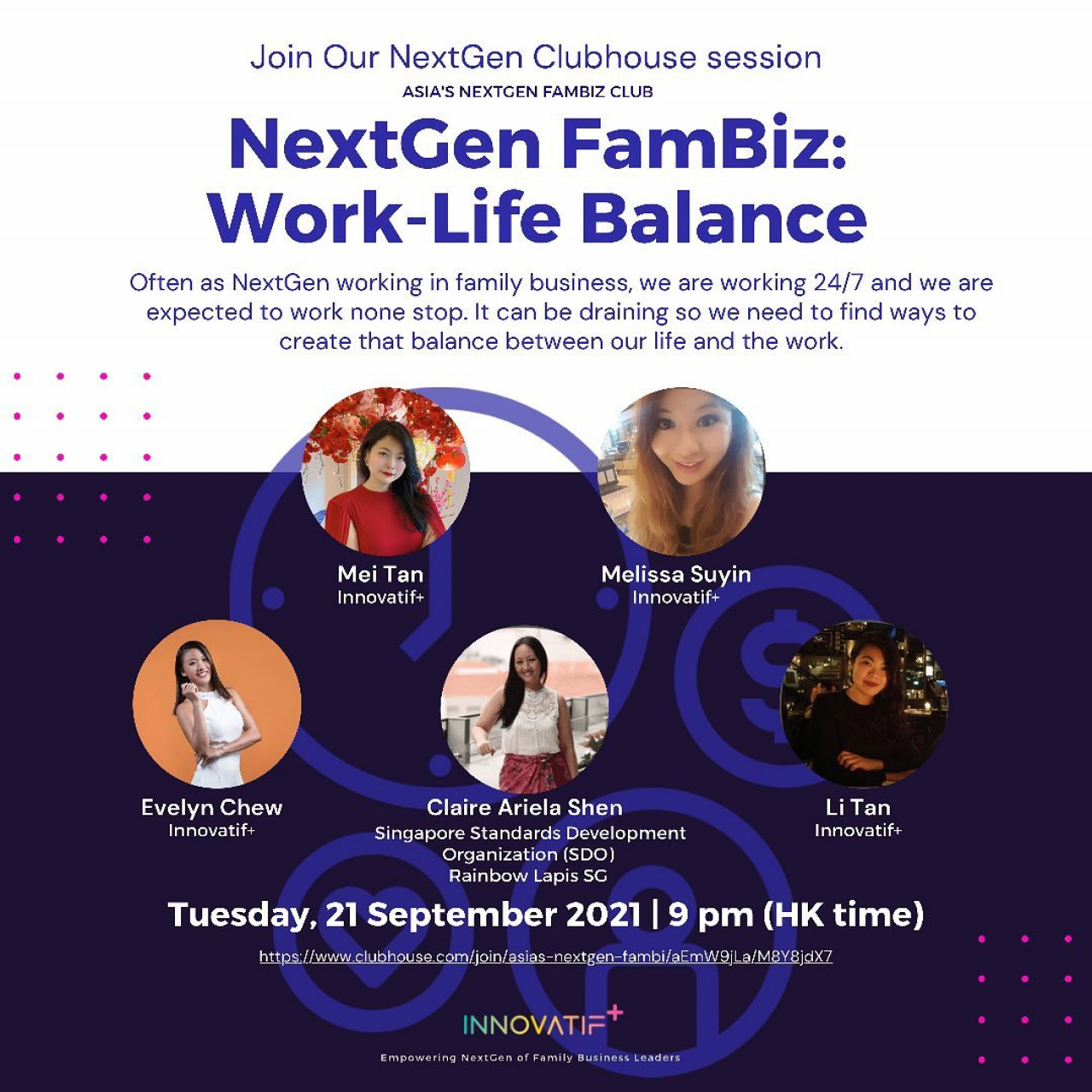 Clubhouse Discussion - Work Life Balance
Published on 2022-04-18 by ClubHouse
Mei:
What are the challenges you face working in a family business that is trying to balance both work and life? Maybe, Claire, you want to go first?
Claire:
Sure. So as I was reflecting on this topic, actually, for me, I've come to a point where I realized it's almost impossible to balance work and life. Because when we like, where we define balance, you can imagine a parent spending eight hours to himself and eight hours at work, and like the other eight hours to sleep. And I think the family business very often, a lot of things fall on your shoulders. And sometimes it feels like work never stops. Because if you still don't have your parents, you see your bosses when you go home, you sometimes go home with them. Or even if you don't know your parents, you are expected to be a 24/7 employee. And, after going through this, I've been full-time with my family business for about 12 years now. And especially at the start, it was really rough, like everything was about work. And it was very hard to draw lines. I think also because of our parents' generation, they are hustlers. They also don't stop and they don't expect you to either. So I've gone through a few cycles of burning out. I realized that in the end, what I see right now is work-life harmony. It's like how I can find time for myself to recharge, but also take care of my work and know that there are different seasons, and sometimes I just need a lot more time for myself to keep sane and keep healthy. But sometimes the business just needs to be a lot more.
Mei:
I am here to totally agree with the view that it is definitely hard to find a work-life balance. I have been in my family business for 11 years and, and also had a rough start at the very beginning. I am working 24/7, especially living with my parents. So it's definitely not easy to find a balance, but like you say how we can actually work it out together. To be honest, these few weeks have been very difficult for me, I'm not sure I'm losing certain motivation or purpose in a way. Maybe you've been locked down and things are getting worse. And you're living with the parents and the boss together. So it's like 24/7 working and there's no getaway, there's no break, and I'm just trying to find ways to recharge at this point in time. How about you Evelyn? Eventhough you don't live with your parents, you live in Singapore, you have gone through some madness as well. So what do you think about the challenges of being a next-gen work-life balance? How do you deal with them?
Evelyn:
There are always some conflicts at work in the family as we have different mindsets with our family members in the business and with the directors as well. So, I have been trying to set boundaries for my life. But like what you've mentioned, the first-gen does not think that way. My boss (dad) will get pissed off if I talk about work-life balance, as to him it is more like work-life integration and no work-life balance. Whenever he calls or client calls, we have to be ready to serve. Even during our annual leave or weekend, we need to get ready to always pick up the phone and respond.
Melissa:
Hi, everyone. My name is Melissa. I have a family business in Malaysia, but I don't work for the family and I do invest on behalf of the family. And basically, my work is managing investments. So I used to be based in New York. That's why we have investments here. I also have moved back to Malaysia, and this is my first trip back to New york. So I think one of the things that I wanted to share to at least offer some value is that I actually think that it's, it's about setting boundaries. So the first time when I moved back, and worked for my family or lived with the family, I didn't understand how to manage that. I almost reverted to being a kid again and having that child's schedule that I had. Coming back for dinner, and then go to my room after dinner. So I think sometimes it's about how to not go back to a child or high school student's schedule because that was the last time I lived with my parents. And when I move back, I feel like I revert back to that schedule. It's hard to negotiate that. But I think you also have to watch your behavior because even just like how you always complain, your parents treat you like children, but like, am I acting like a child around them? So that's the thing that I had to take away as well. I thought, look, this is how I kind of set my adult life and adult boundaries and so on.
Li:
Hi, I'm Mei's sister, and happy to meet everybody. I second what Mel shared earlier, I think drawing boundaries is really important. I think that has to do with your own personal space, as well as mental health. What I have found useful in the past year with almost two years with this pandemic is meditation. There are certain things that we can't control and what we can control is our reaction to the situation. So meditation has really helped me a great deal, even when it comes to having bad days from work or situations with the family, I always look within and try to reflect and do meditation, lean inwards to help me cope with this difficult time
Mei:
Thanks, Li. Before the pandemic, it was definitely hard to find the balance but I used to be able to get away. For me, the balance I find is when I'm able to get outside and meet new people or even, get to a new country or new places, And at that time, my dad couldn't actually see me for a face-to-face meeting. The calls would still come in once in a while, but at least I think it is considered okay. But I think now is more challenging because of the whole pandemic. So I think now, for me, the only way to identify more of the balance of my life would be to try to look for something that is aside from family business. So I have my own business, which is my own passion, something I look forward to, getting myself distracted, or get away from. I know it is more work because of my own business. So definitely I am not a good person in terms of talking about balancing. So what about you girls? What are the things for you to do that you're able to do to still have life, go out, or, if you have family, have kids, you need to balance even more about life about you know, you got to take care of your kids and the businesses. So how are you able to balance it? So if anyone would like to share that?
Evelyn:
My way of handling it is also to do something that I love to do. So usually I have a book to write about how to love myself. So I write down things that I love to do to recharge myself. I've journaled a lot. I think it helps because it helped me, but part of it is in giving clarity and inner peace. Another thing that I learn to do is that instead of fighting the thoughts of no work-life balance, I learn to integrate it into my life and make peace with myself. I will do self-talk to tell myself that I have handled this before. So now, I know how to manage it to balance. I will encourage everybody to give ourselves the space to self-talk, whether it is in the process of meditation, journaling, or just self-talk.
Jeremiah:
Hi all, I'm Jeremiah,23. And I'm in the family business now. We're into manufacturing water tanks and storage tanks in the Philippines. I'm struggling. I'm not sure if I should quit the work, or is that something that I shouldn't be doing? Because I feel like I'm being treated like a kid. I don't know what I'm supposed to do. I feel like I have no control, or the inputs I give, sometimes get disregarded. Not sure if you guys experienced that before, I was wondering how you did it ever? How do you get to achieve those things?
Mei:
Thanks for asking the question. I've been through that too, When I first started, I felt the same. And I thought about quitting almost every other year. I handed in my resignation letter six years ago, but it wasn't really successful. I'm still here. But it's definitely tough to adjust. When we were having our own thoughts and ideas at the very beginning, we felt that we wanted to contribute a lot to the family business. But of course, sometimes, the idea might not get across quickly. There is a lot of strategizing in a way to get your ideas across. At the same time, it needs a lot of patience to earn trust. So it took me a while to finally sort of own certain trust and earn my value that I was able to start involved a bit more in the Family business. It took me about six years, seven years, to finally be able to have more say and lots more responsibility. It's a tough journey, I must say, but it's definitely made me a lot more patient. I would like to hear from Claire. I think you work for your family for the longest 12 years. Here, maybe you want to share the progress.
Claire:
Sure. Jeremiah, before I answer your question, I have two questions for you. Just to give me a little bit of context. First of all, do you have any siblings who are in the business? Are you the oldest or the youngest in the family? That's my first question. My second question is, how long have you been working in the business?
Jeremiah:
I don't have any siblings working in the business. But I have cousins with me. I think I'm the eldest. But I have one other cousin who worked before for the company for around seven years but decided to quit and then come back again during this pandemic. We've been working with the company for only a year now. I know it's a short while, but I am struggling, an internal struggle when it comes to growth, I could see myself doing this here as compared to what I could do outside.
Claire:
Thanks for answering my questions. So I guess I can share my own experience. First of all, I like what Mei said that it took her six, seven years to kind of find her place. And, you know, when I meet other friends who are entering the family business, I always tell them, unless you're willing to fight through five years, if not, forget it. Because the first five years, I feel that those are the toughest years because, in those five years, you're doing a lot of stuff. You're figuring out about the business, the family dynamics, who are the people who have served a long time, alliances, and you're also trying to figure out yourself - Is this for you? You'll have all these thoughts like if I worked there, they will pay me how much I would have, what sort of employee benefits and all these things will be going through your mind. And even after five years, it will come every so often, until you kind of find a place of peace of where you are and where you want to be. For me, I grew up in a family business. 12 years ago, when I decided to join full time. Honestly, I joined for about a year, I left, because I was so frustrated. But after nine months, my father called me back, they gave me the ultimatum. They said, they literally said some big guys want to buy the company, it's up to you now and I saw my mom's face because she set up a company in the 1980s. I knew that's not really a choice, is it? But the reason why I came back was not so much because of my mom, but because, it just so happened that also in between my nine months away, I worked for a company that was doing entrepreneurship education. And I realized that everything I learned, I was doing sales & marketing, I kept thinking back to the family and to the family business. The reason why I left after that first year was that I felt everything was out of control. My parents didn't really respect me, or the way they treated me. It was really tough sometimes for me to develop a level of respect sometimes with especially for the older staff who was there who might have watched me grow up. So when I came back, I came back with a very different mindset. And I came back telling myself, okay, one of the most important things I have to deal with is my expectations, which actually comes back to the topic of the day about work-life balance because I think one of the things that greatly affect our emotions and how well we manage work-life balance is expectations. And it comes down to expectations of yourself and expectations of your parents.
First of all, I would encourage you to ask yourself, why are you in the business and what's your vision and, and to manage your expectations of how fast it's going to happen because there are many parts, and also to manage your expectation of your parents because they too are likely trying to figure out or if you have uncles how best to help you as you integrate into the business. There are other things I did like drawing boundaries that the ladies have mentioned. So one of the very first and I think most important boundaries I drew is that my parents really didn't like it. I told them okay when I stepped into this office I'm not going to call your mom and dad anymore, you're going to be Ms Sim, my name it's like Sim right. So I told them I'm going to call you Mrs. and Mr. Sim. Whether you like it or not, that made them realize that okay, I'm not just talking to my daughter. So that was my first thought and many others. I don't want to hog the mic. I'm sure the other ladies have a lot more to share about what will help you but my top two encouragements would be, first of all, ask yourself why you're in the business and what you want to achieve. And second of all, consider the expectations you have for yourself and of the family and how that needs to be managed in order to achieve success for the family. So that's what I have to share. I hope that helps.
Mei:
Thanks, Claire, it is definitely useful. For me, I also figured out what I really want and what I can see myself from this family, and for me to continue staying, until today, there are times even past five years, even recently, have also got me thinking. Being here for 11 years, is it even worth it? Sometimes those kinds of thoughts will come in and we have to go back to ourselves and look at them and ask why are we here, to begin with? What have I achieved, what I set out to do and, what am I able to do next? So I think it is myself that I have to change my thought process. One thing I learned is don't ever expect to change your boss or your uncle, the older generation, don't expect to change them, that's not going to happen. You have to at least acknowledge them. Just the same as if you have a partner, you're not going to change your partner right to fit you. But you sometimes have to change the way we react to it.
Evelyn:
I am able to relate to Jeremiah because I just reached my second year anniversary of working for my family. I agreed with what Mei and Claire have shared the first five years of figuring things out is the toughest part. I think sometimes it's really because of the culture and mindset differences and the ways of handling different dynamics. So that's why it comes back down to the why, why do we want to stay in our family business? Or why do we want to work with our family? What's our mission and our vision? This will give us clarity, and make us focus on what is more important. There are bound to have frictions working in our family business, we have to focus on the bigger why and that it makes us stay through this journey.
Li:
I left the family business 10 years ago, and then rejoin them back in 2017. I am handling mainly the family office. It was difficult the first four years when I first joined, because of a lot of conflicts, I'm sure you guys have got similar experiences, not the same, but very similar conflicts with family members. That was why I chose to leave. And then, fast forward. I did reflect back and realize that there were things that I could have handled better. But it was, it is where it is now. And then this is why I decided to go back to the "family business". I don't have to see my dad, clearly, I'm based in Hong Kong there in Malaysia, but I did talk to him every day. Similar pressure but is a little bit different because the market is super volatile. We're on a call every day to talk about strategy. How do I advise? Be a little more patient. Parents are getting older, and have to understand from their perspective. As much as I think I know it all I don't. I also value my father's input and his experiences. So I try to balance that out. Sometimes, if I were to try, if I were to deliver a message, sometimes I just say, okay, the timing isn't right. I might want to wait a day or two. If that's possible, if not, then I'm going to go through another channel to deliver the message. So try to be a little more creative. It gets frustrating sometimes so I go back to meditation and try to recenter myself before I get mad or get too crazy about or be too unhappy about the situation. So that's how I've been handling it. Yes, Jeremiah, I totally understand. It's not easy for the first year and it will not be easy for the next five years. Until you figure a way out to deal with them. Again, I think they point out earlier and I think as well as Claire, there's no way to change them. And you know, just put that as that is just the way they are and you need to change your mindset and the way you handle the situation and your perspective towards the situation because that's the only thing under your control. The rest isn't. Just my two cents.
Evelyn:
I want to share that having a support system is very important. Not everyone will understand our journey. It is good to have someone to lean on and share. I'm very truly blessed and grateful to have some friends who were with me when I was down and when things get better they always cheer for me. I think it is important to surround ourselves with positive, like-minded friends and people. Don't keep it to yourself. Especially right now during this pandemic. It will get worse if you lock yourself up. So, do reach out.
Mei:
Definitely, a support system is super important and I think one reason why I started this platform- Innovatif+ to help each other. At the end of the day, if you stay in a family business or even become an entrepreneur, it's definitely not easy to find a work-life balance. But we also need to keep ourselves sane, to keep ourselves happy. So I choose to be happy. We need to know our purpose. We need to know why we are doing this? So either family business or not. I think at the end of the day, we need to find our way out. To really look for the connection between our life and also to do the work.
Before we end the room, can we share something about what you are working on and what you are looking forward to improving yourself?
Claire:
I just want to encourage Jeremiah and this is something I am inviting myself now being 12 years full-time in the business. There is strength in humility. Especially in the first two years, I have so many stories. I would encourage you to approach everybody in the business with humility and respect. When you approach the business like what I mentioned, you will learn a lot. You will find a lot of people to come and support you, and they are generally open to you. You will be tested, you got tested by your parents' start. I got tested in both soft skills as well as technical skills agent. But if you go with humility it gives you grace. So for me, I am reminding myself as well even now I'm still learning and even I'm exploring myself for up to 12 years. I'm trying to find myself where I sit after 12 years. It's A different season. I am restoring myself after 12 years.
Evelyn:
To me, it is a lot of inner work. During this season, I feel so overwhelmed about work. I feel like I was being pulled in different directions. It's very tiring and overwhelming and I can't really focus so I would like to focus more and give more clarity to achieve a state of calmness. Once we find our true purpose, I believe that no matter what happens, we will achieve our inner peace and be able to solve any problems easily and effortlessly. Does anyone watch Kung Fu Panda? I just re-watched it and gained another realization. The first episode of the movie is about finding his true self. At first, everybody didn't believe that the Panda is a Kung Fu Master as he is too fat and clumsy, But he just worked on himself, walked on his path, and ultimately he started to become the real Kung Fu Panda. In the second episode, it is all about him facing all the challenges and villains in his journey, he overcame them to gain his success. If you lose yourself, watch Kung Fu Panda. There is a lot of wisdom in it.
Jeremiah:
Yes, I think it was very helpful, the things that you guys have shared. It made me feel that I was not alone and that you guys experienced all these things. I'll share with my cousin what we talked about. I really appreciate your advice and it is something to think about moving forward. And it's for me to realign our goals and what I want to do as well. And for work-life balance, I do understand that it's hard for the family business. Sometimes family and business overlap and I really appreciate the things that you guys shared. For me, I think simple meditation in the morning, calms things down, and reading a book and staying away from social media will help.
Mei:
Thank you everyone for taking your Tuesday night with me. For those of you who stayed the whole entire time, we appreciate it. Do follow us and do suggest any topics that you might want to discuss with us. Follow the speakers here. Follow our Innovatif+ in the clubhouse as well. Thanks to everyone for joining and to all the speakers who contributed amazing discussions.
Happy Mid-Autumn Festival again
Thanks, everyone! Stay safe!