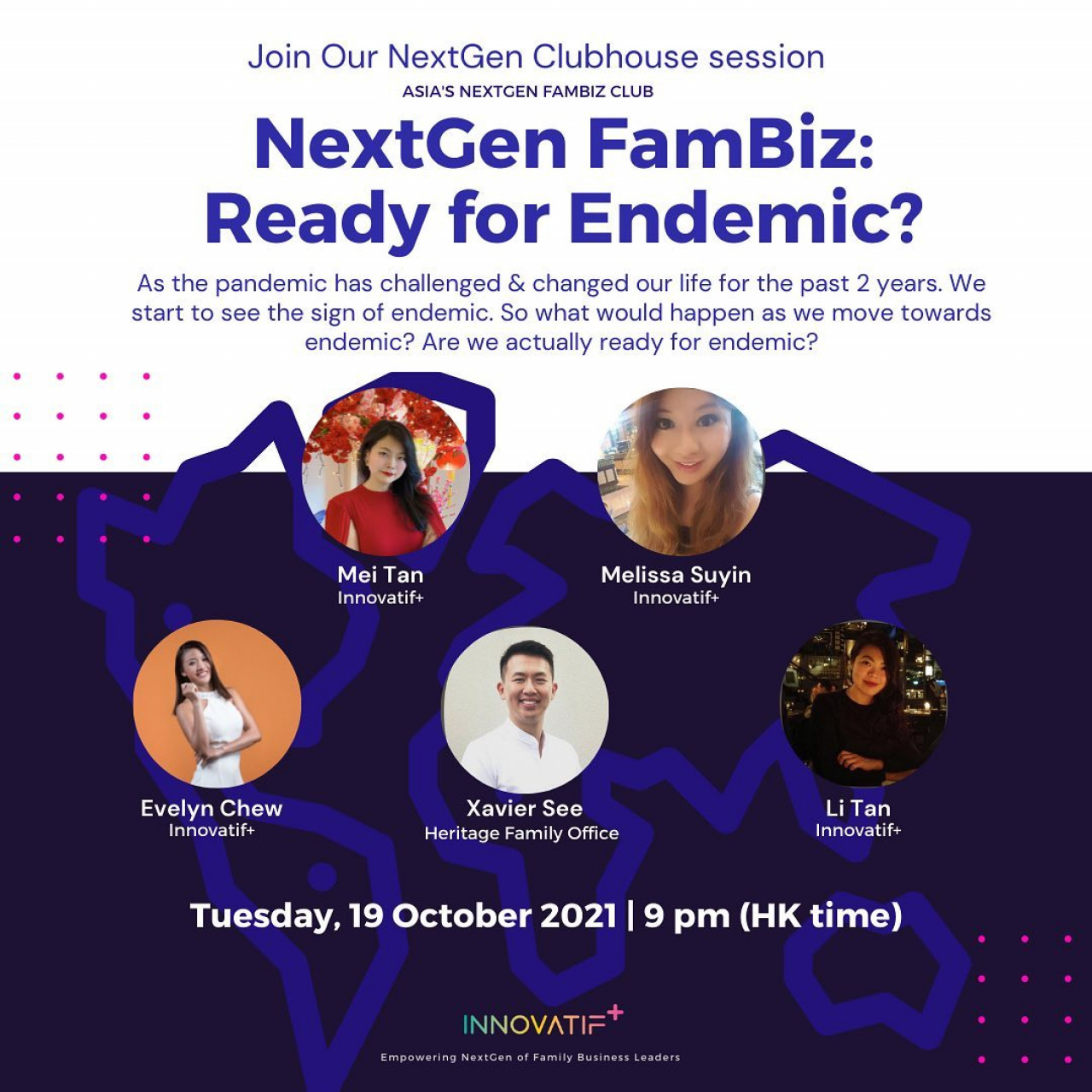 Clubhouse - Endemic
Published on 2022-04-19
Mei
Hello. I'm in Malaysia, it is evening and you're from?

Mel from Trinidad and Tobago
I'm from Trinidad and Tobago in the Caribbean.

Mel
I think you guys are 12 hours ahead of me. So It's 9 am here.

Melissa
Ah, hello, Melissa. I'm in New York right now. It's 9am for me and good evening to the rest of you.

Mei
Yeah, both Mel - Mel, amazing. We have Li here as well. Maybe we can discuss and kickstart the discussion. Welcome to everyone and to those who are new here. We're also still waiting for some people to join us. This is Asia's next-generation family business club. We have a next-generation family business based in Asia that is joining us. We have a casual group discussion happening every Tuesday night, at 9 pm Malaysia time so please join us. For those of you here listening, feel free to join, again, casually you're invited on stage as well. We're going to talk about the Endemic. As we all know, in most parts of the world, countries are moving in different phases toward the endemic. Let's talk a bit about what endemic is, as of today. Before we go into the topic, just do a quick introduction of myself, and maybe each of you can also do your quick introduction. I'm Mei, a second generation in the business of property development based in Penang, Malaysia. I'm also a co-founder of Innovatif+, a platform for next-generation family businesses across Asia, whose goal is to learn from each other to network, connect and act as a support group. At the same time, we want to move forward as individuals and as leaders defining how we can bring forward family legacy and also our own values to the next generations. I'm happy to share tonight's rooms with everyone. We have Melissa here as well.
Melissa
Hi, everyone. Just as a quick introduction, before we begin our topic today, I come from a family business that's based in Malaysia but I don't work for the family business. So I just invest on behalf of the business and we look at an early stage and impact investments. I'm currently in New York for a while but will be returning to Malaysia soon. My family business is in health care. One of the things that we do primarily is in health care. So the whole pandemic and living with a pandemic is something that's very close to home for me.
Li
Hello, I am Mei's sister. So I guess my introduction is very similar to Mei. We're second gen. I think what Mei didn't cover was that the family actually started with natural resources so anything that contributes to global warming, we're sort of guilty in a way. I think counter to that we're trying to do good. So we're focusing now on investing in quite a bit of sustainable impact as companies are now moving forward. That's my background. I handle the family office side of things.

Mei
Thanks, Li. Many businesses are now moving more on the sustainability side of things. Definitely we are on that path. Before I introduce Melissa, we also have Evelyn with us who is also a co-founder of Innovatif+, Evelyn says hi.
Evelyn
Hi, thank you, Mei for the introduction. Hi, everybody. My name is Evelyn. I'm second generation working with my family business in a steel manufacturing and trading company based in Malaysia, but I'm actually overseeing the Singapore international market. I also have my own business dealing with sports media marketing. Today's topic is very interesting! Maybe we can share perspectives from Singapore as well. Looking forward to the talk.
Mei
Thank you, Evelyn. And lastly, we have another Mel you want to say hi, and maybe give us some introduction of yourself?
Mel
Sure, of course. I'm Melissa from Trinidad and Tobago, in the Caribbean. I'm also a second-generation family business, I lead a food manufacturing company initially that wasn't green, and now we're getting into healthy, clean snacking. We're manufacturing artisan breads as well. That's it for me for the time being I guess. Fun fact is that I ran a half marathon while six months pregnant and now my daughter is just under two years old.
Mei
Wow. We have several amazing ladies up here. To the gentlemen that are in the room, feel free to join, raise your hand and join us. We have another Mel in the audience. You know, feel free to join us if you have time. The expectation is that COVID-19 is becoming endemic which doesn't mean that the virus is disappearing, but instead we are looking at enough people that will gain the protection from vaccination and our own immune system to fight the virus. We're not exactly sure how long this is going to be, but we're coming to an end. A lot of people are mistakenly thinking that things will go back to how it was before COVID. We are almost two years into the Pandemic now. Varying situations for everyone in different parts of the world. For example, in Malaysia we just opened up and there's less restriction for businesses. People are now able to go out and dine in. We're now able to attend Events but you have to be fully vaccinated. Technically, we are following the footsteps of how western countries are doing it such as in the States or in Europe. This is our current situation, we don't know how long this is gonna last or is it going to be like this for long? The only difference that I see is the number of people allowed in places or restaurants, which is very different compared to before COVID. Maybe we can hear from each of you what the situation is in the country that you're in.

Melissa
Okay, Hey Mei can you hear me just double-checking? I'll just do a quick one. I'm in New York, and a lot of people in New York State are vaccinated, and everything is open, and everything is full. It's almost back to normal. And I think the only change is that you will have to show your proof of vaccination to certain restaurants, but even then, outdoors on the streets, masks are not required. So I feel like it's almost back to normal here and it's a bit strange but I really like what you said in the beginning Mei about how we have to live with the virus, and it's just all about immunity. It's important for everyone to just be mindful that the virus is still out there and we have to really keep ourselves healthy always just so that we don't get the virus. They're also giving booster doses out now. I think they're doing that in Malaysia as well. A lot about vaccinations here. Maybe the other Mellissa.
Mel
Sure, so I'm in the Caribbean and we are now just in the similar stage as Malaysia, where we have recently opened. I think in the last week and a half, we have opened our retail and dining in. That's a breath of fresh air, to be honest and of course, only the vaccinated people. Gyms have recently opened as well. I would say people have gotten accustomed to staying inside. It's crazy. One thing that hasn't been viewed upon is our beaches. Living on an island, it's just absurd to not have beaches open. I guess the government wants only those who have vaccination to enter the beach, so that would be off limits for a while. Only 50% of our population are fully vaccinated so we're not at herd immunity just yet. That's why we still have precautions with not opening our beaches. But I would say for the most part, until further notice, I think we are definitely on the right path to getting back to some level of normalcy.
Mei
Thank you. It's great to hear that. Definitely each country is at different stages of moving into an endemic. Li's in Hong Kong. I think Hong Kong has been doing pretty well. I think things are quite back to normal.
Li
Yes, I mean, we have a zero COVID Policy meaning when you travel anywhere in the world, or I would say most part of the world when you come back, you have to do a 21 day mandatory hotel quarantine. So they want to make sure whoever comes into Hong Kong and whoever is infected is tested during the quarantine period. Within the city, we haven't had any local cases for the past few months. Things are open, you could go clubbing until 2am, or 4am, or 6am, doesn't matter. Restaurants are open till late but wearing masks, because of SARS in the past, people are a little bit more conservative, which is good in a way. In terms of the border opening up it's not anytime soon and we don't see that happening until maybe middle of 2022. They discourage people from traveling and catching the virus and bringing it back to the local community because the vaccination rate is not as high as the rest of the world, even though we're one of the very few first countries in the world or cities in the world that actually got enough vaccination for the entire population. Having said that, I don't know how you look at it, but you know, 21 days of hotel quarantine to be paid by yourself which is not subsidized by the government. It is not great in many ways, but keeping the local communities safe by imposing that to a certain extent means having sort of like a normal life, if you will, within the city. I mean, we could literally do anything as if nothing happened.
Mei
At the same time, Hong Kong being a hub, where people travel or used to travel a lot to or as a stop-over, it's definitely tough to not be able to go there or if you are going, you will have to quarantine for 21 days, which is just way too much. Meanwhile, there are cases like in New York or in other countries where they're opening up and are welcoming people. In Malaysia, there's a quarantine for 10 days and we can do a home quarantine as well. It's interesting to see how each country is looking at it differently. Then Evelyn is in Singapore. I know Singapore is kind of up and down regarding this endemic thing. So if you want to share with us how Singapore is doing?
Evelyn
In Singapore right now I believe the statistics for this month show that there are about 100 Covid19 cases but right now the government is slowly moving towards the endemic. We are suddenly opening up so right now the daily cases are about 3000. Every day we have numbers of deaths as well. A lot of Singaporeans are not happy about it at the start. We used to be controlled by the zero policy. Most important of all are the senior people because there's a lot of fear compared to advanced countries like the US. The Government actually recently just shared on national TV that the Singaporean citizens must accept that this is coming an endemic and one has to embrace it. We are still doing home quarantine for 10 days, and have opened up for those traveling to different European countries, South Korea, and other places. Even though the government wants the people to accept it as endemic, a few days' notices is too fast. The virus is still there. There's a lot of resentment against the government that they're taking the risk too high. Masks have to be on and we all have to be vaccinated. Right now only the vaccinated people can go into the law so those unvaccinated people, of course, will not be happy, and being Singaporeans, we know we like to complain as well. So right now it is not happening in Singapore.
Mei
Thanks everyone for the updates on the current situation in each country, and we can see that there are places that are more strict, or places that just want to open, especially in Asia. We start to see some Asian countries that highly rely on tourism, and people coming in like Thailand and Vietnam who are opening up. We doubt the residents are fully vaccinated, their vaccination rate is actually quite low, but they are opening up the country for people to visit. That is interesting and we will see if it's really going to be endemic soon? Being locked down for such a long time, mentally and also our economy is not doing very well especially in South Asia where many businesses have closed down and unemployment is rising. In Malaysia, we just opened and we start to see people are just crazy spending in the malls, the restaurants everywhere are full, people are just out and about. I think people had sort of enough of the lockdown, it's definitely tough. Regarding the endemic, we're starting to see growth, spending, and sales, which to me is just temporary and will probably last a few months. Then the real pain might begin, because there are certain jobs and businesses that are not sustainable during the pandemic. The endemic does not seem to be something great, the way everyone thinks it will be. I want to go back to normal but I don't think it is going to be normal in my opinion in Malaysia. What do you guys think? Do you think endemic is something that's on the positive side? Or do you think this is just temporary? Is everything just temporary?
Melissa
Yeah, thank you. It's very interesting, because for most of the pandemic, I was living in Malaysia, and I have only been in New York for the past two months. My opinion on this has changed quite a bit. I know Malaysia has a very strict lockdown policy. At first I was all in favor of that because I thought, the safer the better. When I first came to New York, I had panic attacks because of how open everything was. Granted, the vaccination rate here is very high but what's interesting to me is that it seems under control. We are not talking about the rest of America but in New York, everyone's on subways, and it's crowded, but nobody, not cottonwood is dying like flies so is our impression of how dangerous COVID is, as we read in the media with delta,? Or is it that vaccinated people can still go out and about and enjoy close to normal lives, and it's still manageable. Of course, New York and the States have the advantage of being very close to a lot of where all the health care and the vaccines are, so vaccines are cheap, testing is also cheap, and are almost free. Vaccines are free. Testing is free. In Malaysia testing is not free so a lot of people delay tests so we don't see or don't recognize COVID cases fast enough, which could lead to outbreaks. In general, I feel like they know, that the better the vaccination and testing are, the more open a country can be and that it's actually important for the economy. I was very curious when Li said, yes, it's open, it's almost back to normal in Hong Kong, but no outsiders. It's almost as if they have their own closed economy, so I'm wondering how that is affecting the economy in Hong Kong. I know that Hong Kong is still in business with China. Is there traffic or trade? How's that going?
Li Tan
I mean, I guess in terms of tourism, and how much Hong Kong is very dependent on China for tourism as well as trade, so with regards to any kind of financial transactions or whatnot, that has definitely been affected. What I actually admire most about the Hong Kong people is that they actually made it all work virtually. A lot of deals were done over the Zoom calls and conferences so business hasn't stopped. You would expect that without tourism and a lot of places closed, which to be fair, a lot of restaurants have shut down. Let's say Causeway Bay, for example, was always packed with tourists so a lot of places were forced to shut down because they just didn't have enough foot traffic. However, a lot of people have moved their businesses online, so they didn't really need the retail space anymore plus real estate in Hong Kong costs so much money anyway which ended up being better for them. You win some, you lose some. I also agree that it is not healthy in the long term to keep it close. As for our little bubble it's definitely not healthy in terms of hospitality and hotels. A lot of hotels do staycation because vacation promotions and hotels are booked up every day, every weekend. Hong Kong people have so much disposable income and so they end up spending so much locally, going to restaurants, doing staycation and buying things. Yes, we don't have tourists as a driver of the economy, but they have quite a bit of local spenders or consumers. Overall, Hong Kong's economy isn't suffering as much as other people would think.
Melissa
With closed borders, it's good to hear that there's a lot of local consumption that is still keeping businesses afloat.

Mei
I was gonna say the same thing. I think the local support, and how quickly Hong Kong people moved things online and adapted. This is something that I think Malaysia is still not really there yet. I think part of it, people are still hoping to go back to normal like before then at the same time we want to move things differently because things have changed. This is interesting to see how Hong Kong did it. How about Evelyn? You know, what is your view on this endemic? Do you think Singapore has to move forward because Singapore also relies a lot on trade and is becoming one of Asia's major ports? So what was your point of view on this?
Evelyn
Like what Li has mentioned at least Hong Kong, they can still actually sustain with their reliance on China and tourism and to do more things online. That's why they are able to afford to close down their country and to run on an internal economy. At first in Singapore we also wanted to aim for zero cases because our density is so high we cannot afford to have widespread cases. Our hospitals will not be able to accommodate so many people. The National rally on government actually saw the impact that more and more investors are opting out on investing in Singapore and this will definitely damage the economy so Singapore has no choice. We have to really try to open up as much as we can. I think earlier last year, when Pfizer launched their vaccinations and Singapore had the target of getting 80% of it for its people to get vaccinated by September this year and the government said that once we hit the target, we can open up the whole country. Right now we still cannot afford to open up fully yet because the government didn't expect the spread of new variants. As new variants of the virus appear they have to make changes based on that as well. F&B or retails are really struggling, and they have resentment towards the government because they allowed the opening of new travel lanes, but didn't allow people to dine in or even visit the mall because of the unvaccinated people. When we were all not vaccinated, of course, there was a lot of fear. There were a lot of restrictions that had to be followed but right now, most people are already vaccinated and the hospital statistics have shown that vaccinated people are able to recover faster. Now the government is trying to educate the people to accept that this is endemic and it's okay, it's okay to get infected, but you will recover faster, so that we shift our mindset to accept that. Also not live in fear, but embrace and live with the viruses.
Mei
Thanks Evelyn for sharing. By the way, for those of you joining us, feel free to come on the stage to share, again it's very casual and we have this discussion every other Tuesday among the next-gen. We have different topics and feel free to also suggest topics. Today we're just gonna talk about being ready for the endemic. The next thing, I'm actually curious since we've been in the pandemic for almost two years now, So what have you changed? Or what do you think you have done differently or changed, for the past two years because of this pandemic? And now since we are coming to be endemic, what would you do next?
Melissa
To answer that, I think that the biggest fear, as what I've learned is that if you get COVID, anything, even if you recover, there's going to be some long term damage to your lungs. And I don't have any medical or scientific research and opinion on this. But I think that's still driving a lot of the fears in some communities about going out and about whether they are vaccinated or not. The vaccines have really helped to open up so it's impossible for me to get reservations at restaurants here already. I thought it would be easy, but I see a one-month waiting list just to get into any place. So I feel like that has helped and I think that's really helping the Travel as well because I know that Singapore and New York and the US are actually opening up quarantine-free travel, which is amazing because that's almost like what you said back to normal. The world is opening up because of the vaccines and all that. I think there's still a lot of underlying fear. I don't know how that fear is going to translate, whether it'll be like pockets of people who still isolate themselves, or whether the fears will happen, and people will have to go back into lockdown again. So I think that is the uncertainty that I see moving forward. But I do feel like the opening up and everything has been done in terms of the f&b, the travel and so on quite effectively with the help of the vaccine rollout here in the States.
Mei
I agree that it will take some time to change the mindset. And I think Evelyn, you have something to share.
Evelyn
To answer your earlier questions about these two years of change, I consider my social life to have truly dropped. Sometimes I look back to when I used to almost go out every night to meet my friends or catch up or go to networking events and things like that. Recently I realized that I've been staying home every day so I definitely spent more time with myself and much less time with my social life. Which by the way also impacted the environment in work as well because the working relationship is different. We no longer spend time with our colleagues and bosses so that also creates some misunderstandings. That's the downside. The upside is that I realized that there's a lot of meetings that can be done on Zoom or virtually which is more effective. In the past, I could only do two to three meetings a day, because I needed to travel around Singapore but now I can do five to six, back to back zoom meetings. Though it's a bit tiring, mentally, because there's a lot of screen time. I realized that in-person meetings can be replaced with Zoom or even on calls although I still miss the face-to-face meeting because that definitely offers more relatability and gives a better understanding of the relationship as well. Right now whenever I see a crowd, I still have some anxiety-like, about what is happening in New York. Those are some of the major changes that have happened in my life.
Mei
Thanks Evelyn, I think that everyone's social life is affected as well. I recently finally went on a plane, but just to go to Kuala Lumpur, to meet friends face to face, but I agree there's a fear in the crowd. When I went to the mall there were so many people. I'm like, freaked out and I never feel that way. Again, I think two years is a bit too long? Eventually I think we need to learn to get over that. The biggest change is really working in a family founded business. I recently talked to a lot of next gen and almost everyone is struggling, and it is between the family members that are in the business. You know, at this point, I think everyone has gotten to a certain degree of craziness so, everyone is busting out all sorts of things. I recently talked to five or six of them, and everyone is looking at quitting the family business including myself. Two years is way too long to be with family, especially 24/7 in the business. Interesting times. We have Adam here, maybe you can say Hi and if you have questions or you want to share something, feel free to do so. Hi Adam.
Adam
Hi, evening may thank you. Just to let you guys know, I'm sure you ladies have noticed I'm talking in the context of Malaysian relations here in this country is that most of them are getting vaccinated. 90% of the adult population have gotten their two doses. That is why you will notice as well, moving forward, there'll be less people opening up rooms and speaking in the clubhouse. I've noticed that for the past few days, but anyways, going back to the topic. It's fantastic what you ladies have shared and I've seen some of your bios and some entrepreneurs and some investors, because my job, mostly I connect and I work with entrepreneurs, myself, whether you're a businessman or businesswoman whether in a startup, SMU MNCs, across Asia. So that's what I do. I organize events, I basically give awards to corporate leaders and organizations. I understand that most of the meetings that I had, during the first lockdown, or even in Singapore during the first CV last year, a lot of the guys and the ladies have mentioned to me that it hasn't been easy. Companies were bleeding, they wouldn't be able to cope during the first six to eight months and they had to pretty much use their savings in order to survive, in order to sustain the business. Regardless of the industry that you represent, everyone has suffered. Of course, looking back, and if compared right now in the context within Southeast Asia alone, I think most of them are recouping. A lot of them are getting back on their feet and most of the clients that I have talked to and met are happy to receive awards. It's a testament to the business they have built, whether it's a family business or whether on their own. It's time to receive such recognition, even the time of pandemic or endemic as they say. The only question is that because this room was also hosted by someone where they had the male version, talking about going through the pandemic, I think there are some entrepreneurs like from Burger lab, vanilla mill crab, then a coffee cake, Coffea, and even stuffed so now for your ladies' perspective, during the first lockdown and even now as well, what was the one thing that you guys had to pivot? That you guys had to adapt and embrace the change in your lifestyle and how you work and even in your business model as well? Yeah, that's my question. Thanks
Mei
Thanks, Adam for the great food at the same time for the great question as well. Since the pandemic, what have I adapted or pivot? When we had our first lockdown, I actually quickly moved to a virtual tour for our showrooms and property site. I used to run a co-working space and we decided to sell the space. We did that on the first lockdown so we're glad that we did that so we don't have to keep that going. We changed the entire business model. Formerly a co-working space to now a branding and e-learning platform. Totally different things we had to technically restart the entire business. From a physical to online space. Clubhouses like this which only started in the beginning of this year where I have been able to meet a lot of amazing people who are next-gen in the family business. I know the usage of the clubhouse has dropped but we still see some of the people coming back because of our attitude during the Tuesday sessions which is good. We just learned to use a different platform to cater for different purposes. CS students, our innovative class platform, is able to create physical events. We've been living on online sessions like this, or zoom. I think we are a bit done with all this zoom and online, so we're looking forward to some sort of physical events. I'm actually planning a small one next year. A physical meeting or meetups and to provide more support among the next-gen group. Things have been changing the past two years, there's ups and downs, mentally and also emotionally as well. Especially working with family, it's tough. When the situation arises, you gotta face it 24/7, in the same house, in the same office, crazy time for me. I'm sure Evelyn can really relate, even though she doesn't stay in the same house, going through all the changes in the same way. Evelyn, do you want to answer?
Evelyn
Okay, I can share my family business perspective. There are pros and cons of being in the same house and staying with your family but if you are not with your family, there's also another kind of misunderstanding as well, because we are not seeing each other we are not bonding with each other as much as we used to before. Not sitting at the same time dining table everyday as well. This pandemic has helped me and my family business in different ways. During the first lockdown because the HQ of my family businesses is in Malaysia, the first MCO caused us to lose a few million dollars. After that, we learned to work remotely and work in different teams. Team A Team B as well for all the Malaysian side. Our service is also affected plus the oil and gas downturn as well. We started to look into different markets overseas. We are starting to do that from zero pace to still moving. We also decided to adapt digital marketing. Google search and campaigns for the past 20 - 30 years, we have never run any marketing campaigns before. Which is why I brought this up to the board and they decided to adopt. We certainly see some results from that as well. As for my own business, pre-pandemic I was running a sports eventual travel agency. In which we had to travel and bring people around the world to experience different activities, and stuff like that. Since we cannot travel, I have pivoted my business into a platform to connect the sports agencies and different sports activities at OSI. We also help the sports and lifestyle company with video marketing and live streaming services. And it actually helped our business to thrive during this pandemic. The results are actually better than pre COVID. I would say it's a blessing. It's really a blessing that we actually still get good results from the pandemic. Of course, there are definitely some ups and downs because Singapore's restrictions are like open and close, close and open. Similar to Malaysia. WE definitely learned but more importantly we also pivoted our minds. We are becoming more resilient. At first there were a lot of circuit breakers and we were in panic about what to do next. During the Second one we were like "Okay, so here's what we're going to do." Then came the third one of restrictions heightened alert. We're like, "Okay, let's go. Okay, Plan B, let's go." It has made us more resilient and now we know what to do and things are becoming more predictable. That's all, Thank you.
Mei
That's a good point. There are phases we go through. These long two years of lockdown, open, and then lockdown, and then open, we kind of have to adapt ourselves to the situation. Mel, how about you? I know, you don't work in the family business, but I'm sure you definitely have some sort of changes over the two years.
Melissa
Thanks, Adam, for that excellent and interesting question, because I'm very curious, so it happens that we have all three females here up on stage, but I'm really curious to see how our male counterparts in entrepreneurship had to handle and deal with the stress. The mental stress or anything of the pandemic. I can only share from my perspective, for my family business, because we're in health care, it was a lot of business as usual. I mean, we stayed open throughout, of course, there were the ups and downs of whether people were actually able to go out and seek health care services. But one of the biggest changes from a healthcare perspective is that for the first time we had to focus a lot on strategy. I mean, you can see this in the Mac, on a national level, right? Unusual times, nobody ever thinks about what our health ministry does, or what the role of the health minister is, because things usually function like clockwork, in healthcare, you know, you go to hospital t's just, it's always operational and business as usual, that's our main focus is operations in health care. For the first time, we had to start thinking very strategically or not for the first time, but you know, focus a lot of our resources on planning, on making sure about SOPs, especially when it was confusing. On a national level, we kind of almost as a group had to come up with our own things to keep our patients safe. And you know, to decide, is the government doing enough? Should we take it one step further? Or, you know, that sort of thing? So that was quite different for us as a business in healthcare. From the investment side, and what leisure had earlier, just learning to move everything online. We used to travel so much just to make investments and deals, and suddenly everything is, you know, you can do that on a zoom call. So maybe I'll get carbon credit, you know, it's actually better that we're not flying 10 hours just to take meetings with different companies. But yeah, I mean, I do think those were the two biggest changes for me. Thanks, again, Adam, for that question.
Mei
It's great to see everyone learning and adapting, and the changes over time. No one was expecting this whole thing to last close to two years. At this point in time no more excuses about COVID or how we haven't done this before. We've had almost two years to do all this. This endemic or pandemic situation is part of our experience, and we learn from it and definitely grow from it. No matter what happens, we always grow or learn something from it. Definitely, a great session to learn about each and every situation. This whole endemic has been a learning period for us, at the same time we also look forward to when we can actually get together. It's almost 10, thank you so much to everyone for staying with us since the start of the rooms. Feel free to join us every other Tuesday and suggest any topic you want. Follow any of us here, and we'd love to get to know you, and to have more of this kind of discussion despite the audience dropping for clubhouses. I still see people are here coming from all across the world. The clubhouse so far has been a great platform for us to connect people, especially some of the nations from across Asia. We have friends here from Singapore, the Philippines, Thailand, and Vietnam as well. Feel free to join us for another Tuesday night. Thanks, everyone. Have a good night and I'll see you again. It's easy to drop in and drop out so to all of you who have been following us feel free to drop in. It's not like a zoom call, come hang out with us here every other Tuesday. Come up and we'd like to hear from you. Just fun and a bit of discussion not so serious All right, guys. take care.