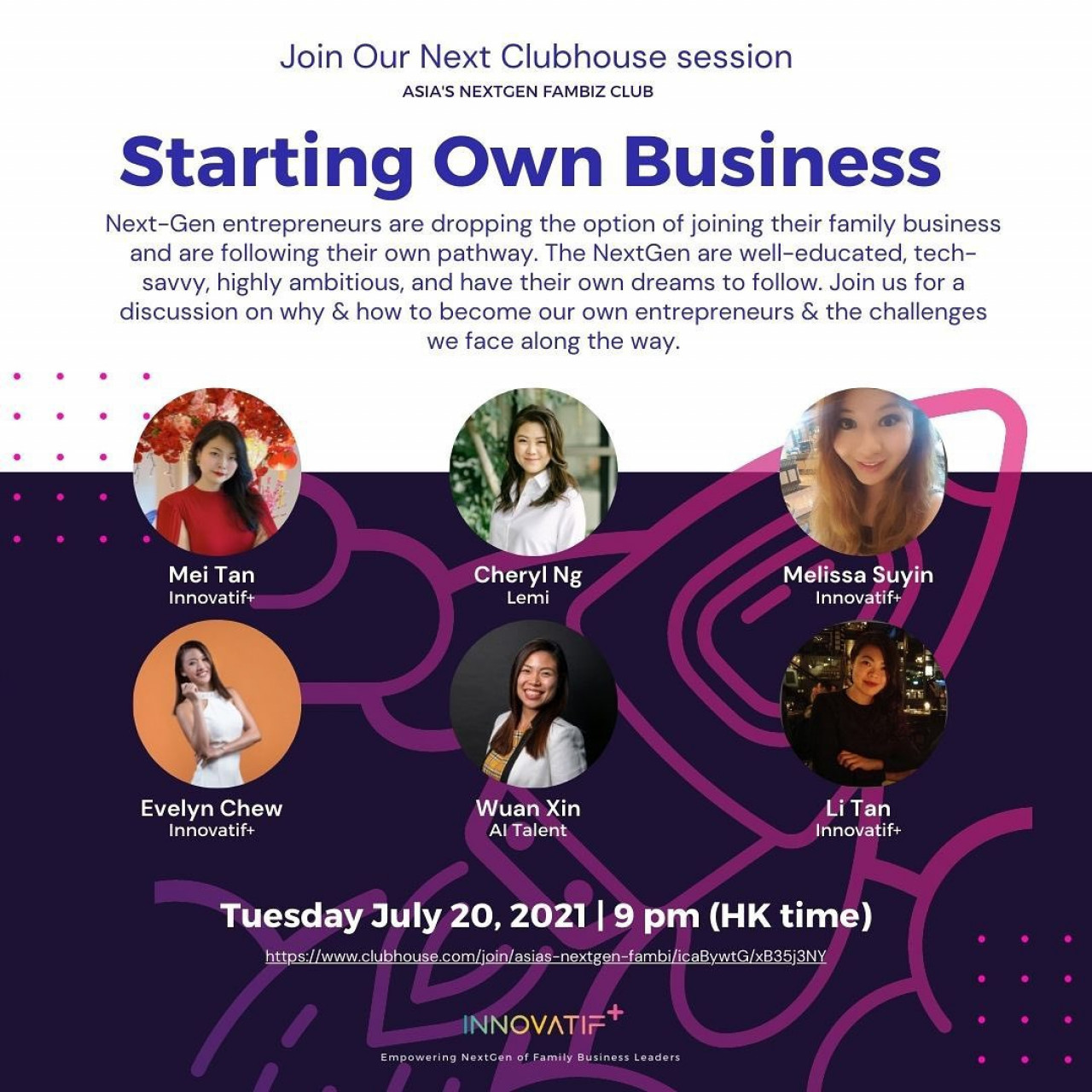 Clubhouse Discussion : Starting Your Own Business
Published on 2022-07-11 by ClubHouse
Mei
Hi Cheryl, let's have a quick introduction to get to know everyone, thanks.
Cheryl
Mei, thank you for inviting me. Hi, everybody, I'm Cheryl. I started my own business, I am not with the family business, although I did join for a period of time. I learned what I could learn from it and decided that at the end of the day, they really didn't need me. They could hire much better people for a fraction of the cost. With our family, and I think with a lot of families, we have family constitutions, and other things like that. A lot of rules and so on to keep things systematic. It's a wonderful topic to discuss the importance of family businesses in Asia as it's a very big part of the culture. Again Thank You, for having me here, Mei.
Mei
Thank you, Cheryl. And next, Wuan Xin would you like to do a quick introduction?
Wuan Xin
Thanks, Mei. Hi, I'm Wuan Xin. My family business is actually in the manufacturing line. We do precision engineering but with my own business, I basically provide online extracurricular programs to international schools and private schools to train children to be entrepreneurs. It's mainly a Trojan entrepreneur program. I'm excited to share with everyone tonight the difference between being in the family business and managing your own business.
Mei
Thank you, it's exciting to have amazing ladies to be sharing with us tonight. For those of you who would like to share your experiences, or if you have something to comment about, feel free to raise your hand and we'll discuss them even if it's in the middle of the discussion. To start things off, I know that there is this notion of us having "the easy ride" by working in a family business. I guess there's this question as to what made you start your own business aside from your family business. For example, I own a business aside from working in the family business but I would love to hear from you guys, about what made you start your own business. Is there anyone who would like to go first?
Wuan Xin
Okay, I'll go first. My family business is in engineering and I didn't study engineering, but that's not the point. The reason why I started my own business is that this is what I really want to do. I had to get blessings from my parents beforehand. I think that's one of the key points before starting a business, especially if it's very different from what the family is doing. The main reason why I do what I do is that this is my passion.
Mei
Thanks for sharing. How about you, Cheryl?
Cheryl
Yeah, sure. I think my internet was out. I think my family business is a fantastic business without me. There was something that I really wanted to do, something I was deeply passionate about. I just felt like there are many things that we can do in life. The one thing I didn't want to do was, regret not doing what I wanted to do and that's the reason why I started my own.
Mei
Great, we definitely have something in common. We have passion and vision. I believe that's the same with Evelyn, right?
Evelyn
Correct.Same as Cheryl and Wuan Xin, I started it as a passion and we didn't want to have any regrets. Mei knows it very well. I started my own business when I was in university. It was after I already had my own business that I joined my family business. My dad asked me to come and help the family business but I still hold on to my own business. Mei knows that I did sell my business but I eventually took it back. There are other considerations aside from passion, I feel that it's like a mission as well for us to do something greater in this world and help more people. That is why we feel more connected to our own startups than our family business. I'm not sure about the rest but that is what has kept me going and kept me alive. It actually helped me as well, in terms of giving me the energy to work on my family business.
Mei
Thanks Evelyn. We all started because we have things we are passionate about and our own vision. As for me, I joined the family business first but I always wanted to start my own business. While in the family business it was instilled in me that I didn't have any other choice. It felt a lot like I needed to give up on my passion. I realized that the choice is right in our own hands and to do it so that we will not have any regrets about choices we never made. I have to help the family business and at the same time start my own business and then eventually run both. Even though it's super tough sometimes, I think it's worth it at the end of the day. Maybe you guys can share with us your journey, what challenges you encountered when you first started, if your family is supportive, or if people think that you're not being responsible for not taking over the family business and focusing on helping out and things like that. What challenges did you face when you decided to start your business and while you're running your own business to maybe start with Evelyn.
Evelyn
As for the challenges, I didn't start out by joining the family business so I had no prior experience so it was definitely hard finding the capital to start my business. I was in college and my parents were not supportive of me starting my own business. Since I was young I wasn't thinking about money or expenses as I had my family so the first challenge was, how do I survive on my own right now? As Julia shared before, if I want to put up my own business, I have to go and find resources myself as I cannot expect my family to support me. I didn't know that it was difficult because I watched my dad do business and it's like, wow, it seems so easy and there's no fear about having no money. I guess long story short, the biggest challenge is, how do we raise our first capital to run our own business. I went through a tough journey as well, to be humble and to show my vulnerable side and ask for help. Even Mei had witnessed me pitching. It's been a crazy journey.
Mei
How about Wuan Xin? Please share with us your journey and experiences
Speaker 3
I think the first challenge was actually to talk to my dad. Raising the funds or capital was actually easier than telling my dad I wanted to do my own business. I still remember vividly, when I decided I wanted to start my own business, I set up a meeting between my business partner and my dad when he came to KL. I set up the meeting and made sure that my dad knows that today's meeting is about me explaining what I'm going to do. The point is not to ask you for money or anything. The point is to make sure that you don't worry about me, I just want you to know what I'm doing. I just want to let you know about my passion for children. I felt like those two months of preparing for the meeting were harder than anything else.
Mei
I can totally understand. The funny thing is until today, I don't think I have ever told my dad that I have my own business. I believe he found out somehow, but we never talked about it. It really is tough, how about Cheryl?
Cheryl
As all of you guys know, the entrepreneurship journey can be very, very turbulent. There are very big ups and very big downs. In the arena that I'm playing in, which is the technology industry it's kind of like you go big, or you go home. The winner takes all. So you get to these moments where you ask yourself, am I going to make it? Is what I'm doing really helping anyone? Does anyone actually appreciate what I do? It's very easy in a way to fall back sometimes or to feel okay, there is the family business. I could quit, I could stop, I could choose not to do it anymore. It becomes harder, of course, as you grow and have a bigger team, and everyone's relying on you and all that, but definitely, when it first started, as you mentioned Evelyn, about fundraising. That first year is probably the toughest because you're wondering whether you're on the right path, and probably the second year as well. That's probably the biggest challenge, to identify exactly what will keep you going, and what motivates you. With any entrepreneur, or any person who's doing a professional career, there's always this sort of self-doubt or this question at the back of your head and it's very easy to just fall back and say, you know what, I don't need this, I'll be fine. But then to grasp on to and identify the greater reason as to why you're doing it, and what exactly it is that you want to achieve. That becomes a guiding light and once we're able to step into that, and we're able to say, there's a real reason why I'm here, there's a real reason why I'm working hard. It's definitely not because I need to. Once that sort of inspiration comes to light, then you really work from a point of inspiration and not fear which is really powerful. That's something that all of us, once our businesses do take off, or once your businesses get to a certain point, we're really working from a point of inspiration. It's the most incredible feeling when you get to that point. For me, it was a product-market fit. For me, it was identifying our brand, who we were as a brand, and how we're different from others. Overcoming the challenges up to that point was really really quite tough.
Mei
I can relate as well, It's technically us starting fresh. Raising funds to be able to survive. Especially in tech, startups are definitely on a whole another level. Being our own entrepreneur is definitely different from being in a family business. There are definitely pros and cons to both, and it is to say that entrepreneurship is a lonely journey. That's why it's very important to seek out like-minded people and find the right kind of support group that will help each other and grows together. Maybe we can discuss what the pros and cons are, of being in a family business and the entrepreneurship journey. People always have this kind of stereotype about the next-gen. Thinking that "Oh, you don't have to go out there and do all these things because you already have it all, but here we are, struggling to get through the phases, hustling and doing it all to build a startup. From raising funds to getting a customer base. What are the differences?
Wuan Xin
Stereotypes are everywhere, right? Whether you have something going on and it's very easy for you, but actually it's very different. Assuming that we start from the bottom as a regular employees and we go into that company, the way people treat us will be very different if they know you are the owner of that company, as compared to if you start from the bottom. Imagine now, that since you are the owner of the company, and we joined from the very beginning, people will not tell us everything, and the way they educate us, or the way they guide us will be very different. They will communicate differently with you which I would say is the cons of being in the family business. As with starting your own business, of course, there were a lot of challenges as mentioned by Cheryl. Personally, the whole journey of starting my own business revolved around the why. The purpose is really what pulled me and the direction that provided me with the light rays to go ahead. However, the cons of doing our own business would be having to learn everything from scratch. Starting from simple invoicing, manner of talking to your customers, preparing a sales pitch, and just basically starting everything from scratch. Honestly though because this is what I want to do, it's far easier than being in another business that is not what I like or is not my calling.
Mei
Thank you Wuan Xin. Agree that even though we had to start from scratch, there is so much to learn and several challenges to go through as our own entrepreneurs. Definitely, the experiences and lessons learned have shaped us. With me doing both, I always have to switch hats. Sometimes we have a way of doing things, especially in our own startups, because we face different clients or work with a different team, right? Maybe the team in the startup is a lot younger versus in the family business where we have a more experienced staff. How we run the team or work with them is also very different. I've been doing both and sitting here it's been a very interesting experience. How about you, Evelyn? I know you're also doing both, what are your thoughts about the differences?
Evelyn
I agree with Wuan Xin, that it's different because in the family business there are a lot of resources for us to leverage and not just the resources, I'm also talking about the network of clients, the client-based talents, employees, the capital, the system, and structure. If we choose to do this, we can just activate it and we can definitely move faster with all the resources and make bigger changes. However, when we decide to do our own business, it's really to start from scratch. We have to go and find our own resources, build a network, like what Cheryl mentioned, and always keep on adapting to the market with our product, our product-market fit, and a constant switching around. What I noticed though is that when I started doing my own business, it definitely kept me grounded and allowed me to see a different perspective from my family business. Especially with understanding why certain decisions are made for the company and because they put the company's interests first, instead of our own interest. If I didn't start my own business, I definitely would not be able to see that. It's been a really interesting journey even though it is tough handling it but we have to. It takes a lot of discipline.
Mei
Thanks, Evelyn. The struggle is worth it. It's already challenging to handle two and now I'm handling three. At the end of the day, it's about finding ways to do it. How about Cheryl, do you have any insight on that?
Cheryl
I think the biggest problem with joining a family is that we get started at a very young age. I was involved at a younger age. I came out of college when I was 20 and then I just jumped straight in, and it was working out for me. For a short time, it was pretty much empty. At 20 years old, you have absolutely no idea what the value of money is, you don't know how much things cost. When a vendor gives you a quote, they just kind of give you a number and you're like, Okay, well, I don't know the standard. Then you end up just spending a lot more because you don't understand it. You just don't know, and you don't necessarily have the discipline or the necessity of being frugal. It's also kind of different pressure because the pressure isn't the sending amount. The money is not the issue. The difficulty is in pleasing your seniors. In my case, I try not to make a fool of myself because I answer to my uncles or my father, you know, and it's more of emotional trauma to have a failed project than it is to have overspent by a bit. And so I think definitely one of the biggest things that you don't come away with when you join the family business is discipline, the attitude towards spending in an awareness of how much things actually cost. When you're the final decision maker, nobody is really kind of saying to you, as a 20 year old, that you're really making a mistake, nobody really wants to step on your toes. You want to talk to someone because it's lonely, you want to have someone to confide in. At the same time, it's tough to confide in people when they're really just kind of using you or want to get a favor from you so that they can get on your father or your aunt's, or your uncle's good side because they recognize that you are family. It does give you a very warped sense of the company, it gives you a very warped sense of the world, and of expenditures and spending. My general attitude and my general perspective are that I don't think you should take on big projects right away. Fortunately, I didn't, I wasn't that involved in a lot of things so we switched over to SAP on a global scale quite quickly so I ended up doing project management. It was early when I got involved in some other major projects, but definitely looking back, perhaps they were very kind to give me the power that they gave me but I would never do the same with my own kids.
Mei
Being involved in the family business definitely comes with expectations and it's very hard to fail because in my family, particularly for my dad, it's a big no, no. It was hard to even carry out a task when there's this added pressure as compared to when we started our own business to the extent, that it's okay to fail. In a lot of ways, we learned from it. Looking back at it, it was okay to fail. It was hard to settle in with the amount of pressure and I definitely had to prove myself before they let me handle bigger projects. In a way, it was how I learned and I was able to be effective, especially in terms of structure. I started from the ground and it took me 11 years to get to where I am now. I had to learn from different departments, about proper business handling, the cash flow, all these things that maybe a lot of founders or a lot of startups might not get the chance to learn before they start their own business. In a way, I think of it as a blessing to have that kind of experience. I am passionate about all my business, real estate as my family business, and those that I've put up. It took time to learn how to get people to run the company effectively before I kind of took a step back and chased after that passion hence the other business we founded. When you're working in a family business you may have a different vision than the other people involved so it's hard to take it in a certain direction. Whereas when I started my own business I was able to take my own vision and go through the whole journey of making mistakes. This entire experience actually led me to understand why for example my parents made certain decisions, on how to save on costs. A lot of pros and cons to debate about but you learn. I see some of you in the audience, please feel free to raise your hand and share your thoughts with us, we would love to hear from you. Maybe we can go into talking about how essentially people assume that when we started our own business we were able to get support or funding from our family business or wealth. There's the case of Brett, my co-founder who comes from a family business background as well. There are these comments about how he is successful because like most next gens, He got support from the family wealth or that he is somebody's son. What's your take?
Cheryl
There's definitely a perception regardless of whether you come from a family business or not as long as you're in the top 1%. You will always be, the word isn't ostracized but along the words of marginalized. There will certainly be biases against you just for the circumstances of your birth. I think that definitely applies regardless of your background, just the fact that you happen to be privileged. This is a great conversation to have because we're all recognizing and exposing our privilege. With recognizing that, others are not quite. Also, I think that everyone here, the reason why they're doing what they're doing is not for the sake of just adding to your bottom line which in itself is already recognition of that privilege. At the end of the day, it comes down to, as we said, the purpose, and the reason why you're doing what you're doing. With Lemmy, for example, our goal as a company, and every one of us in the team is to support local businesses, with the pandemic especially businesses seem to be dying out. We've seen our favorite cafes with small businesses all shutting down, and there's no platform in the whole world to support them. As someone who likes to buy locally and likes to support single mothers who are sending their kids to school or a father who is trying to just put food on the table, especially during this time. There isn't a platform where you just sort of finding all the things that are being sold by locals and small businesses at the source. That's the reason why I started Lemmy. So far we've helped over 5500 families meaning that we've helped 5500 entrepreneurs or businesses. Although there may be this sort of stigma that we have an advantage, the other point to make is, that people are quite able to see that the reason for me doing this isn't just to make a quick buck. There are many other ways to make a quick buck for me. With so many industries and properties, for example, agriculture, being your own team is probably the most passive, easiest passive income. It really comes down to what we're doing and who we're helping. Some of us here are involved with education, or children or so many industries that are, by nature, socially aware and environmentally aware, I think that people are smart enough to see through that perception and that bias.
Mei
I believe in that as well but sometimes it's difficult for people to see the hard parts. Another idea is that, in fact, some of the conditions we find ourselves in, we actually have no choice or control over. What we have control over is how we want to spend the rest of our life, the impact we make on people, our desire to create a solution, and things that actually really help people. In essence, we embrace where we come from, and at the same time choose to make a difference.
Wuan Xin
I don't think we can run away from those judgments. Just let it be because that judgment is everywhere. Especially because they know that we have that privilege. Which is the same thing that led me to start my own. I thought, well I have a safety net in terms of not having much to worry about. I don't need to worry about the essential things, like where to stay, or in terms of food. That's the reason why I was able to start my business. In fact, setting expectations for the family is very important. Inform them about your plans and your timeline and maybe say "I'm going to try this for two years''. If I am not going to make it in two years, then probably I will go back to the family business or do something else. I was talking to one of my friends who owns a very big hardware shop. What happened was he stopped and he quit the family business. And he was like, It felt so weird because I don't get a monthly income. I asked him, "Do you really need to keep doing this to survive?" Is there an urgent need? Do you have food? He said yes, Do you have a place to stay? He said yes so I asked him, then what's your problem? You can go and do whatever you'd like to do. That's how he also started his own marketing company. He's very happy with what he's doing now. It's that perspective, that we ourselves need to embrace, our privilege. So why don't we make it work? So that we can help more people?
Mei
Thanks and Evelyn? I know you're in sports and this is something you consider your purpose. I believe Evelyn your purpose is in giving children and people, in general, the experience of sports and being outdoors and just generally being more adventurous?
Evelyn
Yes so right now, we had just pivoted into sports media marketing and like many of us also started by asking family and friends for support especially when it came to raising capital. My friends would ask me, "why can't you just borrow from your family?" Or tell me to borrow from my sister, or ask my dad for support, you come from a well-to-do family, things like that. I confided in a lot of friends and they would tell me the same things. I realized that no matter how much we try to be self-reliant, they are gonna have that judgment, and we can't exactly make them understand. We also can't change the fact that we are from a family that has given us this privilege. I simply tell them and acknowledge that I do feel very privileged. I'm blessed to have received a good education, and good values. Which are the same values that I want to give back to society to help more people and achieve a greater purpose. I also came to a realization that whatever people say is not within our control and what we can do is to prove to them and prove to ourselves that we achieve great results with our hard work. I am dedicated to working smart and being more disciplined. Along the way, people may doubt us and try to question us, but choose not to listen to the noise and create your own circle of friends who you can trust and who believe in us and encourage us to keep moving forward. Keep hustling.
Mei
I agree that it's best to shut out the noise. People who believe in us and who we trust will always be there. For some of those in the audience, who have the same dilemma. For those who are thinking about not joining or leaving the family business and studying or starting your own business, what would be your advice? I know that we all chose to start our own business but some of the people in the audience are in the same situation we were in. What would be your advice to them?
Wuan Xin
My advice is always to start by really communicating with your family. As for my case, My siblings are also involved in the family business and so we have someone in there and we are not worried about that. That's why I can actually do what I do. If my siblings were not there, I don't think I could do it. If that were the situation, I would feel that my family is more important. When I speak to my parents and ask them, they'll usually say, what we want is for you to be happy. When they say that it brings us to the question of, should we continue with the family business? Or does it mean the opposite? It's very hard to read between the lines, especially when it comes to family. Communication is very important and if you have something in mind, prepare and plan. Start with a proposal and bring in your business partner first so that you at least have a prototype, before you even tell your family. Tell them that this is what I want to do so that you have a few results and you're not just giving them an idea but nothing is really on the table. You can't go talk to them and have nothing to justify your cause. At Least be prepared with a prototype.
Mei
Thanks and we also have Mel here with us who is also a co-founder of Innovatif+. Thanks, Mel for signing on.
Mel
Yes Hi, sorry I had some loading issues getting in. Hello, everyone. I guess I missed some parts of the conversation. This is something that's really interesting for me because I know so many next-gen that are deciding whether to join the family business or to start something of their own. What I do is I actually invest in early-stage companies so a lot of times, I meet a lot of the next-gen who are starting their own companies. That's why some of the questions are really interesting to me. Usually, when you start your own business, especially if it's a tech startup or anything, it requires a lot of time and commitment. You really have to be clear with the family, about what the expectations from them are, when you start your own business, and how they expect you to also play a role in the family business. Looking forward to a good discussion here today. From an investor's perspective as well as from someone that comes from a family business, this will be good, to hear all sides of the story. Nice to meet everyone.
Mei
Thanks Mel. As we were talking about, what would be your advice to those who are in the situation of deciding whether they should join or continue to be in the family business or if they should start their own? Or in my case, I'm doing both. Someone who actually came to me and asked me for advice is Evelyn and she eventually decided on doing both as well. So what would be your take on this now, Evelyn?
Evelyn
It was definitely a journey. I'm not sure what stage you guys are in, whether you are about to join the family business, you started your own, or if you're right in the middle and doing both. When I stepped in to join my family business, my dad told me to let go of my own business 100% and just focus on growing the family business because we are a listed company. There are a lot of things that would take away my attention and would have no time for my own business. We also have our uncles here and their kids as well so if everybody has their side job, no one is going to focus on the business. So I really had to step back from my business and products and let my partners run the business. However, during that period of me focusing on the family business and doing some training for the family business, I really felt lost. I started questioning myself and my purpose as well as my role and contribution to the family business. I agree that it's important to communicate with our family but aside from that, it's also important to ask ourselves, what we want to achieve and what we want out of this life and essentially we are a part of continuing what our parents started. Our parents will eventually pass on the business to us but we have a different vision for ourselves. I came to the realization that if I let go of my business and I am not able to run it and realize my vision, I will have so much regret that I will end up hurting my parents and that's not something we want to happen. So I took back my business and continued to run it. I initially didn't tell my parents because I knew they wouldn't understand. At the end of the day, it's really about your calling. Don't be afraid to talk about your calling and just go after it. When I decided to do both, several of the directors in my family business were angry and doubtful of why my dad allowed me to do both. They somehow saw the work that I do and they began to recognize that there's a fire in her and that we didn't realize that she can actually do more for the company because I was running a sports media company and they actually came to me and asked about marketing. Asking, How can we do digital marketing for the family business? We were 30 years old, plus traditional business, we had never run a digital marketing campaign before because all we knew was cold calling and maximizing the network of the first generation. It was a blessing in disguise. There was definitely a period of questioning whether I did the right thing or not, there was a lot of fear. If you're in the situation of deciding what you should do whether to go on your own or join the family business, it definitely comes with a lot of responsibility. Communicating your thoughts is a start. I know there are a lot of questions and it can be scary. We tend to make a lot of assumptions. For example, I was worried about what my dad would say and what the people in the company would say. Do what feels right and let things take their natural course. You never know what will happen next and if you have a calling, follow it. Don't quit your family business right away, maybe start small. If it's working and you feel that it's the right time, talk to your family. I'm happy to hear everyone sharing, thanks!
Mei
Thanks Evelyn, definitely just do it and you grow by learning. Before we let Claire, start sharing or ask a question, maybe we can let Cheryl share some advice?
Cheryl
It's pretty sad for everybody if a family member is unhappy. For example, if you're unhappy, you're going to make your parents unhappy, and you're going to make your siblings unhappy. Within my family, we have a sort of different perspective, there's actually no pressure for us to join the family business if anything. There was a criterion for us not to join the business because our family follows. Well, I think they were concerned about making sure that the family business will fall back on some people. They wanted to make sure that in terms of the longevity of the business, they only really get the creme de la creme to join the family business, and not just every single person and so they actually put in a lot of criteria. With a lot of my friends who have businesses as well, I understand that they have exams to join the family business. The primary focus and the primary question is, why is there a family business? What is the purpose of having a family business? For my family, the purpose for us was to keep the family together, to keep everyone healthy, make sure that everyone is taken care of, and keep everyone happy. And so if happiness meant pursuing something else or happiness meant something else to other people and to various members of the family, who are we to stand in their way I think that it's really important to remember the reason why we're working really hard. It's for the happiness of our families and for the future of our kids. At the end of the day, the bond between us and our parents, our bond between us and our cousins, which I'm very close to my cousins, very close to my aunt, and my uncles. You know, I think that that is the most important thing, and that trumps absolutely everything. So, my advice would be, if you make yourself happy, and you're fulfilled, it will also be much easier to spread that happiness to the people around you.
Mei
There are definitely a lot of reasons that affect the way family businesses are run. Having a good structure is really what would secure it and just to share a bit of my take on it, I joined the family business and wanted to leave badly. I guess I did not have much of a choice, I was working in a different field and had to move back to join the family business and I just wanted to leave because I had a different perspective and a different way of doing things as compared to the founders. When I did decide to move out, my dad came to me and asked me to come to help out and I love my family so much that I decided to continue on. I was in the family business and was doing okay but I started asking myself questions like what happened to my passion? What happened to the vision that I wanted to create? Is it over? I was at a loss. That was my life now, working in the family business but I was lucky to have found friends who encouraged me to do a side business and that's how I got the courage to do a side business even without much support from my dad. Fortunately, my siblings, my mom, and friends were super supportive of me, and one business led to another. I see how much impact I'm able to make this way, doing both. You have to find out what you really want to do and then there are always ways to do it. Next, maybe we have Claire take the stage. Maybe do a quick introduction and then if you have a question you can ask or you want to share something.
Claire
It's nice to be in this room, I actually have a few questions. For me, I've been in the family business full time for 12 years and the business has been around for about 14, I am a second gen. We do food manufacturing and retail. My question is in relation to you guys have mentioned something about the transition. I think starting businesses is really easy for us, especially if we've been in business for a while. We have lots of ideas, and we kind of know how the business runs. I heard some of the suggestions about maybe starting something first, and having some results in the presentation. I guess my question is like, how did you guys transit out because a lot of us, like for me, I work with my two younger siblings. They are from different parts of the business, and we hold key roles, especially as a family. First of all his transition like how, what are the key things that you guys found? Or find it very important for a smooth transition and everyone supports you. Where you also have some sort of peace of mind, as you sort of vacate your position in the company, which is usually a very key position. My second question is about juggling the period post, like getting things moving and starting your own thing. For me, one of the things that I think my family could have done is to have allowed some of us to go out and work somewhere else and then come back in but we didn't have that opportunity. It's just been in it all your life and then when you've graduated, this was what you've been prepared for. So how do you juggle, have your own thing as well as the demands of still being part of the business because at the end of the day, if anything happens, and you're caught between both, it's very likely that there's going to be a lot of pressures on the family that you have to solve the family business things first, and that was sort of always take priority? So how did you juggle or manage expectations? Thanks.
Mei
Thanks, Claire, for the great questions. Maybe we can have Cheryl share. Since you were in the family business, and then you actually transitioned out. So what would be your take on this?
Cheryl
Well, to be fair, my excuse for transitioning was that I did my master's. Unfortunately, I am not one that can speak to this very well. But what I would say is, at the end of the day, in my own business, what I have found is that we have a very, very strong base of team members, we haven't really done much, there haven't really been many shifts in the roles. Definitely, I think, if you groom somebody to take over your role, and you find the right people, and it's really multiple people to take over your role. I would think it's healthier for the family business as a whole. It's actually even in corporate governance and standard practices. With regards to corporate governance, in particular, I think it's widely accepted that the way that a healthy business should be run is that the people inside must rotate out, so you don't have every single role heavily dependent on somebody, especially at the top levels. Thanks to that, the way that they do it is that they force mandated I think two to three week leaves, which is sort of a block left where people actually cannot access anything, from their desk, from their computers, and so on, to see how the company would function without them. And I think that that's really healthy. And it's quite important for us, as both entrepreneurs and people, within family businesses, to be able to create structures where the businesses are able to run without us, as It allows us to take vacations, which is quite important. You know, we're all women here. It allows us to take maternity leave even just taking two weeks off is a really big thing. Certainly, it puts everybody else at peace of mind that if you're not around, there is somebody else to take over. Definitely finding the right people is really tough. So I think that it's always very important to sort of groom people from the lowest rungs of the company and to identify perhaps who can be mentored and see which members of the company can blossom from that mentorship, are able to sort of growing with your feedback because there are some that will reject it. So you can't put all your eggs in one basket, some will not appreciate it and others that you know, will feel extremely entitled and it just wouldn't necessarily connect for them. That's what I would suggest in terms of moving away. I think that all of us have to just accept that having that rotation and allowing that rotation is important. Regardless of whether we're in the family business, running our own business, or even working for a corporation, this is just, I think, something that once I think we explain it to the family, they accept because it is quite logical. With regards to juggling, I didn't juggle, I didn't have to juggle. I chose not to juggle. I think Mei would be a better person to add to this and perhaps Evelyn.
Mei
To talk about transition, my eldest sister Lee she's supposed to join us, but her clubhouse somehow has an issue couldn't join in but she was supposed to be the next person that will take over. She actually did a proper resignation letter, to tell my dad and convince him about how she wanted to try different kinds of jobs and learn new skills, and then she'll be back to rejoin the family business. She left for Hong Kong about eight, or nine years ago and she never came back. She's still helping and supportive of the family regardless. She did tell me about her plans and I was very happy for her that she chose her own path. I decided to take on the challenge of taking over the family business. As with juggling, it's tough as I'm handling three businesses. As Cheryl mentioned, getting the right people is key so that we don't have to do everything, we just need to have a good team. I actually mentor and train most of my team to be able to take up the role of running, the whole operation, so they don't have to rely on me for a lot of things. Turn to people, and then you have the time to free up and you can do different things. I do divide my time for all the businesses so it's definitely setting your time accordingly and having the right people on your team. That would be my way of doing it. One of the admins and a gentleman is here with us. Maybe do a bit of introduction?
Edwin
Good evening. Thank you for having me. I am a second-generation business owner, my family runs a construction business that was started just seven years ago. My question to the panel speakers is, do you think seniority in terms of age, or gender plays a role in your family business? The reason I ask this question is that I have a sister who is older than me. Since I was young my dad had instilled in me that I was taking over the business. My sister is studying the same but my dad keeps on insisting that I take over. Is gender or age something that plays a big role in your business especially security-wise?
Mei
Yeah, so does Anyone want to answer the question?
Cheryl
Oh, absolutely. Edwin.Absolutely. 100%. I think that every one of us here has an opinion on that.
Mei
Yeah, you're definitely speaking to a room of all ladies here. Maybe I can answer that because I'm from a very traditional family business, we have five girls and one boy, who is the last one. He has had the same kind of pressure from my dad that since young it was sort of known or announced that he will be the one to take over. As we expanded and the business grew there was more to consider. Especially when we expanded into real estate, it was the women who took over that part of the business, and then it was my brother who handled our timber business. My dad sort of went by age, my eldest sister supposedly but since she left it was put on me. If I left then probably I'll pass it on to another sister, going by age now. That is how it is for my family. We didn't really go by gender because he actually says that I'm a lot like him. I'm super ambitious and I can be quite stubborn sometimes which he sees. Additionally, when I put up my own businesses he saw that I was doing well even if he never admits it. Although there definitely is that tradition of the male taking over the family business. How about the rest?
Mel
Maybe I can just jump in quickly, because in my family as well, there is always a differentiation between ownership, which means equity in the business, as well as the roles that you play. So I think similar to a lot of the experiences of others on this panel when the family business grows, then there will be roles for everyone. So everyone kind of gets absorbed into different functions and different parts of the business based on your existing education and skill. Although the interesting thing is when the son is born, the family always has the idea that the Son will take equity and ownership and it would be divided but maybe the son may have the main share. I don't know if that's the case in your situation but that actually changed over time. What we realized is that the ownership, as well as the role in the business, has to kind of go hand in hand. It's always a situation in flux, but definitely, at birth, there was always the expectation, but I've noticed these expectations change once we're all like adults.
Cheryl
Yes, I agree that it's when we are adults that everything changes. But probably 20 years ago, there was this very strong sense of segmenting. So, everyone, everyone might agree with that or disagree with that. I also come from a duty family.
Mel
Yeah, somehow we have a lot to chew here. Yeah, same to me. Even until now, my brother has this perception from my grandparents is like, okay, you know, we're waiting for you to come back. When are you coming back?
Claire
Thanks for sharing. It's quite interesting hearing your perspective because the way you said it is different usually for girls, you feel like the males usually have a lot of priority but the way you shared it sounded like, why does my sister not have as much pressure, which is quite a different perspective. In my case, we have three sisters and one brother, my brother is the third in the family. He's taking care of a totally different side. My parents weren't so focused, they were more senior. At the end of the day, I am the oldest of the three siblings that are in the business, so I'm responsible because I'm the oldest, regardless of gender. Yeah, but I do know of other families, where in their family constitution, it's very clear, they do not allow any of the girls to come in. They don't even allow the spouses of the sons to come. So I think in the end, it really depends on the family culture.
Evelyn
For me, there was no choice because my dad has four daughters. There's no son.
Mei
Yeah. I mean, I hope that also answers your question. Do you have anything else to share?
Edwin
No, that's a really, really interesting experience.
Mei
Yeah, you're definitely not alone. Trust me. There are a lot more ladies fixing the same thing, especially in the family business. It's getting late and we would love to keep talking. But of course, you know, it's still a Tuesday night. Thank you so much, everyone, for joining us. We still have so many that are listening and thanks for joining. I really appreciate all the speakers and those that came out and shared your questions and your insight as well. Hope to see you all on another Tuesday. We will talk a bit more with a focus on the next gen. in the travel business. The travel business has been highly affected, let's hear from them about what they have had to face as in the family business, and what they plan to do next. Thanks again, everyone. Ladies and gentlemen, for joining us tonight for this amazing and fun discussion. Stay safe and stay healthy everyone and have a good night.