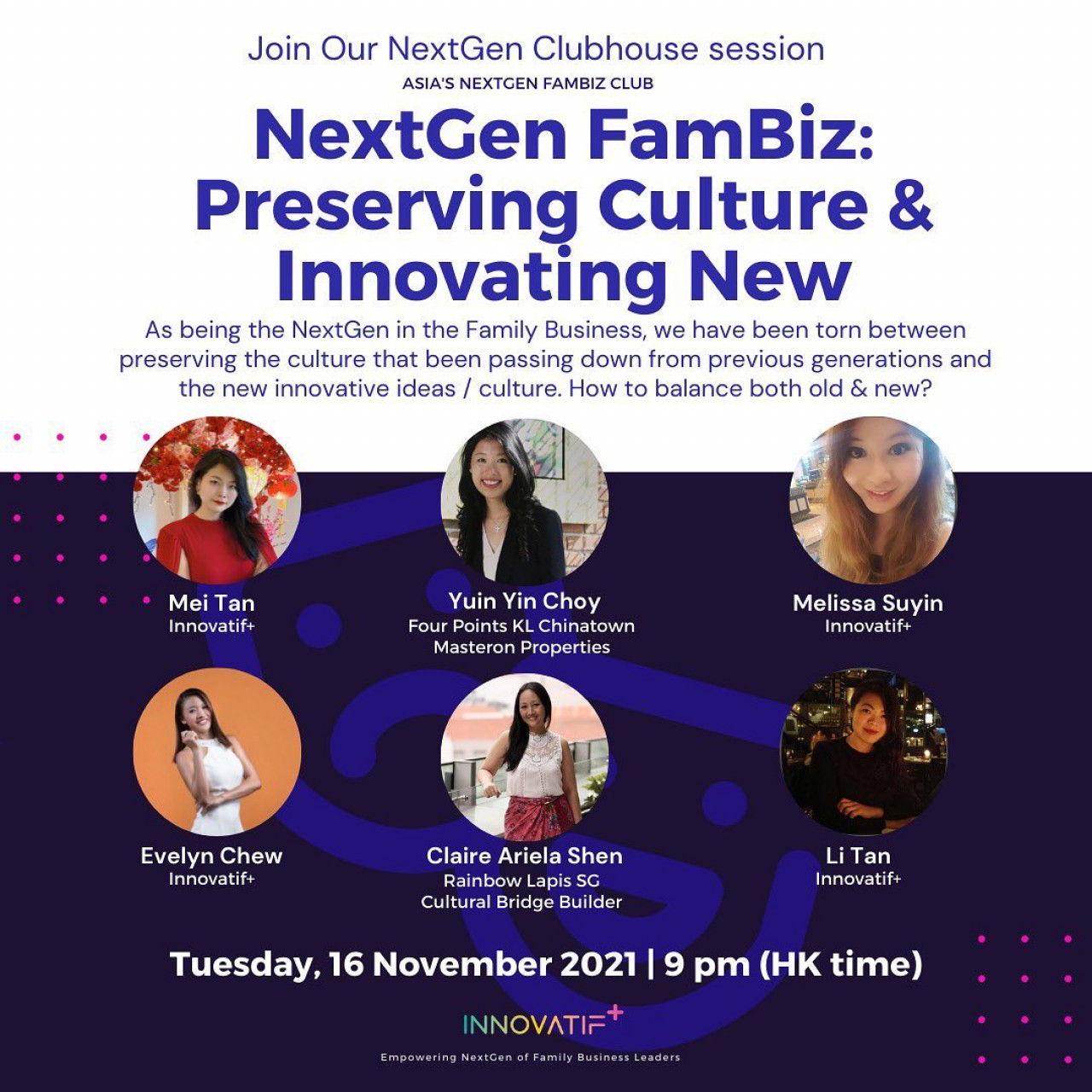 Clubhouse Discussion - Preserving Culture & Innovating New
Published on 2022-08-02 by Clubhouse
Mei
Inovatif+ is a platform for the next generation of family business leaders and for them to explore, learn, share insights and to act like a support group. It also aims to see what collaboration we may potentially do and hopefully, to make the journey as a next generation different even though it's quite challenging at times. We decided to come up with this platform to really support and help each other. Mel is here too, welcome back to Southeast Asia! Mel had just landed all the way from New York. Thanks for joining us. We have Claire, maybe you want to say hi and do a quick intro?
Claire
Hi, Mei and Hi, everyone. My name is Claire. I'm from Singapore. And I am a next gen. My family business food manufacturing industry. We started in 1980s as a professional culinary school and in the 1990s, that's where we went into food manufacturing for the Horeca sector mainly specializing in heritage confections. We do have retail it's called Rainbow Lapis if you're from Singapore. Yeah. So basically, we're in the business of preserving heritage through manufacturing, retail, and education. That's what I do and thanks for having me, Mei, and looking forward to today's conversation.
Mei
Thanks, Claire. We would love to hear more about you and how you've been with the family business for 12 years, especially with regard to preserving the culture of the business. Next, we have Evelyn please say, Hi.
Evelyn
Thank you, Mei for introducing me. Hi Everyone, My name is Evelyn. I'm the second gen in my family business Pentek group based in Malaysia, but I'm actually managing the Singapore and international market that's why I'm based in Singapore now. I actually run my own business as well. It's a sports media marketing company. Talking about innovating while maintaining the company culture is definitely a lesson for us to learn. I'm looking forward to hearing everybody's insights.
Mei
Thanks, Evelyn. Next, we have Yuin. Do you want to say hi, and maybe share a bit about yourself?
Yuin
Thank you for the introduction. Hello, everybody. My name is Yuin. I'm from Malaysia, a third gen from property development and construction group called Masteron Group of Companies. In 2016, we entered the hospitality industry so we not only construct buildings but also fit them as we also have an interior fit-out division. With those two divisions, we decided to move into the building and fit out our own hotels so that's how we landed in hospitality. Under the hospitality division, we are now managing three hotels, two in England, and one in Malaysia called the four Points hotel in Chinatown. I run the hospitality division with my father. Mei was very kind to invite me to this forum because a hotel in Chinatown is actually very strong in cultural preservation, because of our locality and everything that we do in the hotel, we try to maintain our culture and heritage and communicate the story to our guests. So yeah, I look forward to speaking more on this topic.
Mei
Thank you, we definitely would love to hear more about that, and next we have Mel, Welcome back, Mel.
Mel
Thanks Mei and Hi everyone. Yeah, Mei, You're right. I'm actually quite jet lag. So probably going to be a little bit quiet during this session, but just want to say hi to everyone in the room. I'm a next gen in a family, business and family businesses in healthcare. Although I don't work for my family because I actually invest on behalf of my family in startups, and early-stage companies and also manage our other investments. I've just landed in Singapore from New York and I think it's a very interesting topic because in terms of preserving culture and innovating, you can see that innovation, but probably not that great in terms of the culture and tradition, because I've chosen to focus more on the innovation side. So I'm very keen to really have the discussion today. I remember an instance about Four Points because I was in the area when it was not built yet as a friend invited me to a speakeasy across it and my dad actually had to drop me off and I remember it being an uneasy experience. It was one of my first memories of moving back to Malaysia, from New York and getting to know the area which was actually quite scary for me and my dad.
Yuin
I think it's very interesting that you said that because I think a lot of locals who have not been back in the past 5 to 10 years are extremely surprised by how the area has changed. There's a huge creative industry in this part of town now that is working to preserve the culture, but still innovate and make things hit at the same time, so it's interesting that you said that, and I hope that now that you're back, you're visiting the area more and more as well.
Mel
Yeah, definitely a lot more. When you mentioned that and you talked about developing that side of town, I remember so clearly, my dad said to me "Are you sure your friend is meeting you here? Are you sure it's the right place?" Anyway, back to you, Mei and I look forward to a good discussion tonight.
Mei
That's actually a good start to open tonight's discussion. How certain factors have played a part in changing a particular area. The idea that culture has managed to transform different aspects of our lives may it be our families, friends, or businesses. We can start by answering, "Why is preserving culture important?" Before we get into the culture itself, let's begin with why it's important. Claire, would you have something to share on this?
Claire
Yeah, sure. I was really excited to talk about this because I'm obviously a very strong supporter of culture. It's the essence of everything we do. One of our strongest product lines is Lapis. For those of you who have been into some of my rooms, when I speak about Lapis it's very much about culture. Asian desserts get looked over like they're not that significant. When you look at some of the things that we have within our culture, we have a lot of symbolism. A lot of things that are very meaningful, and we share them. When we go back to our roots and detach ourselves from the busy life that we have right now, and allow ourselves to stop, ponder and reflect on our roots then a lot of things come up. Our values, things for your piety, or blessing, the older generation or the younger generation or even a friend with good fortune or health and in different ways through food. That is the basis of what we do and why we do what we do. When it comes to the family business it's very similar. Even though the pace is like that of Wall Street Fast in which everything has to be faster, cheaper, and better, and with the digital age taking over, we have to keep up with the trends but at the same time, there are a lot of foundational things that we still have to hold fast to. Thus when it comes to company culture, of course, there need to be very basic values, the foundational values of the family, that we want to hold on to, and I don't think no matter how fast the world changes, those things are not going to change, right? The values of love, respect, and integrity, are things that are not going to interrupt nor shake. But when it comes to other things like working culture, which I was reflecting on today, my father has been having such a tough time understanding the work-from-home setup. He thinks it's rubbish and that he needs to see his people every day because if they're not at work then something's wrong. There are those sudden changes you have to think about, and some of them involve HR policy changes, but I'm sure that we will dig deeper into that. So I'll start with that. Yeah, back to you. Mei.
Mei
Thanks, Claire. I agree that we must reconnect with our roots and especially continue what our ancestors and the previous generation have established before us. Important Cultures definitely must be preserved while also keeping in mind that some cultures may be improved or gained. On a side note, the work-from-home setup is definitely new to our parents and I'm working on that with my dad as well. Yuin, you're also in the Chinatown area, did you want to share something about the relevance of being in Chinatown with preserving the culture?
Yuin
Sure, I think being a stakeholder in a place so diverse, like Chinatown, it's almost our responsibility to preserve what our forefathers have built over the years. I think there's so much beauty in preserving culture, everything from the architecture to the offerings are kind of linked to the culture and the people and our forefathers who have built this place. Without this, this area would lose its identity. One of the reasons I think, why people like coming to Chinatown, in Kuala Lumpur is because it is seen as a very unique destination that is not replicated elsewhere in the world and I think, for us, as a hotel, we kind of realized very early on that this could be our USP. It's not something that someone else across the town could pull off because they're not lucky enough to be in this area. Looking at it from a business and marketing point of view as well, It gives us a story and a lot to talk about. We can tell the story of our forefathers and our food offerings that are linked to the offerings of the souls in the surrounding area. This makes our hotel very unique compared to all our other competitors. I think I agree with Claire as well, culture also takes a form of preserving values that are ingrained in certain systems and certain families that kind of trickle down into all the different promotions, all the different offerings that we have as well. I think the culture in a nutshell provides a very distinct identity that trickles into your offerings which is something that can be communicated to the public in an interesting way and get them excited about it.
Mei
Yes, Chinatown definitely reminds me of the very strong culture that Georgetown also has established, especially with the architecture, values, and practices. All this shapes our Identity. I was jogging around a few weeks ago and I liked that it was something very unique yet at the same time connected. How about you, Evelyn? Both Evelyn and Mel are into new and exciting things. For the both of you, do you think preserving cultures is important? It'll be interesting to hear your perspective.
Evelyn
Yeah, correct. Thank you, Yuin and Claire for sharing. Due to the nature of the business, my family business is in steel manufacturing, so it's not as exciting when it comes to heritage culture. What I can share about is company culture. From my point of view, there's one thing in common that Yuin has already mentioned, mainly the values or the core values of the forefathers. As for my case, the first generation is my father and his team, and because we are a listed company, there's a lot of corporate governance. The culture definitely is more hierarchic and very controlled. We are actually going through the transition to the second generation, so there's a lot of friction in terms of how we can also adapt to this new way or culture of doing things prevalent to the new generation which is collaborative and non-transparent. I personally feel that this culture topic, specifically the culture within the company organization is very important because it affects how we hire people and retain talent as well. Take for example my family business, the culture is always very controlled wherein everything has to be reported to the boss, and the boss prefers to micromanage many things. Those are practices passed down from my dad's generation which are a lot of top-down and they don't really give 100% Trust to the employee or even empower them. If you do the wrong things, they will scold you and then the boss or the leader will be scolded as well. They watch and micromanage their team like that. It's still very traditional and a military base kind of culture. Yeah, so fun. Now the second generation has joined the business, and my sister and some of my uncle's sons or some of the old generals' sons have also joined the business. We're not given a lot of feedback here because we see the new generation or the younger generations, they join the company and usually they don't stay for long so the turnover rate of our staff is very high. This was brought to the attention of the management which opened the discussion and more importantly has allowed us to educate the older generations on how to embrace this. Trust and empowerment are a culture that must be cultivated. That's been my experience with culture really, back to you Mei.
Mei
Thanks. I agree that certain cultures must be preserved in managing a business and the organization but as we usher in a new generation of leaders who are inventive and open, we have to adapt as well. I mentioned earlier that Mel, you're also into innovation, is there something you'd like to share?
Mel
Thanks Mei, I really love the sharing so far. I do have similar experiences with Evelyn, professionally, because in my workplace and in work life, I was always on the side of innovation. I always say the younger generation or the millennials want to work in workplaces and offices that look like the future because eventually, they will be the workforce of the future. The transition from one generation to the next in terms of professional and work culture will always be difficult especially if it's a very big difference. If the company has a lot of people from the older generation, or the people in the older generation have a lot of power, that transition will always be quite challenging. I've definitely noticed that and it's one of those things that we have to be very mindful of in terms of Professional Coders. I'm much more comfortable working in more innovative or faster-paced types of environments but another part of a culture that we covered was the expense of the social aspect like cultural heritage. We talked about Chinatown with our food and how we do things like clay. I'm a big fan of cutlery, kitchen items, and plates. Something that I really feel it's important is the aspect of social culture. I always think that in terms of the family business, it's not just business, but it's also family. From a social and family perspective, I'm all about ways that we can preserve the family's culture, tradition, values, and everything for the next generations. That's just my two cents on the topic.
Mei
Thanks, Mel. We actually have a gentleman here. Hey, Brian, nice to see you back here. Would you like to say Hi to everyone?
Brian
Thanks, Mei. I haven't joined in half a year now so Thanks for having me. I'm actually in the family business of manufacturing fire extinguishers and we also do fire protection systems, sprinkler systems, the very boring stuff, basically. I've heard everyone speak about retaining the culture and the culture that's like army style which I'm pretty very familiar with. My dad was in the Singapore army for two years. And he runs his household and his company like an army camp but I think as he's growing older, he's becoming more relaxed. I'm just here to listen to others as well and chime in when I can. Thanks Mei. Thanks for having me!
Mei
Thanks, Brian. Wow, your dad was in the army. I think I can relate to that and as our parents get older, things get slightly better. Of course, I have my sister Li. Thanks, Li for joining! I know you're in Hong Kong now and everything is fast paced there but surely there are traces of culture and tradition, what's your take on today's topic?
Li
I believe culture gives you an identity. Not limiting us to the family business but like what happened in Hong Kong back in 2019. If you would ask any of the people that were on the street, they would say that they were fighting for the identity of Hong Kong, and its culture. Some may argue that Hong Kong does not really have many identities, but a lot disagree and I'm one of those. To some extent, we're all Chinese, but Hong Kong is unique in the way that it's a hybrid between being very international with the British influence, and very Chinese in the way that things are run. In terms of the big Hong Kong families, they are still fairly traditional in a Chinese way, even with the British influence. It's actually quite nice to see that they still have family dinner on a Sunday, or must have dim sum on Sunday, everybody either stays together in Hong Kong, or travel somewhere else as a group. So they're still making efforts in preserving the culture both from a family business standpoint, as well as in like Hong Kong, or the city in general.
Mei
Thanks, Lee. The idea of getting together on Sundays are traditions we think of preserving. Yuin has to leave, thanks for joining!
Yuin
Speaking of culture, it just happened to be my grandparents birthday. I came up very quickly for this call. I think I should be a good filial Chinese granddaughter and get dinner.
Mei
Thanks for dropping by and we wish your grand grandfather a Happy Birthday. Hopefully, we can have you again next time.
Yuin
You all have a good session. Alright, Bye!
Mei
Right we were saying that it's important to maintain culture, values, and traditions in the family and yet innovate as well to keep growing in terms of business. What are some of the cultures in your family or in your company that you wish to preserve or may change?
Claire
Well, it's tricky. I think the culture that I love the most, which I also sometimes struggle with, is how my parents always give a lot of grace to the staff. You know, a lot of my staff come in and they're, everyone's broken in some way, right, no matter how perfect they present themselves at the start. Honestly, sometimes a few that some of these people if they worked elsewhere, they wouldn't last a week but my father always reminds me, you have to treat the staff like family, once they come in, you do your best and there's a Chinese saying that says you have to endure with one another and build each other up, even if it takes time. I struggle with it sometimes because honestly, sometimes things are just performance-based and I really don't want some of these people on my team. But after a while, I can see that grace really can change lives and that's something I really want to preserve. The one I'm struggling with is the whole concept of how people work with you forever, for a really long time but the new generation, they don't think so. You look at the finance sector and they switch each and every two years. Personally, I wish that we could do something that still preserves that culture, where people work with us for a long time but also give room for them to go out and then come back. Something I'm tinkering with, like, yeah, those are probably the two things. Thanks Mei.
Mei
Thanks, Claire. Those are good points and something that we all are dealing with in terms of culture change. We have a new generation coming and all we can do is try. I see Brian agreeing with a lot of the things you said, Claire. Brian anything to add?
Brian
Yeah. I think Claire was talking about the culture internally. I still cannot fathom how people leave so quickly these days, I'm still trying to keep people in. I've only been at the company for three years. I think one of the cultures I like to share in my company is really just sharing fire safety because I think fire safety is something people already care about. What we did back in the day, like 30 or 40 years ago, was that my parents would go to parks, go to housing areas, and basically start a fire and put it out, right? We are retaining the culture but in a very different way. I think the end goal, we try to always look at the end goal, the end goal is really to let people know and understand how to put out fires with whatever they have. Right now, we just hired a full-time tik toker two months ago, and doing the same thing we are basically teaching people how to put out fires in a very fun and mass way. I would say this is a very small part of innovation, how data or information is being consumed. In the beginning, my parents were like, Why did you hire tik tok? Or what is this about? They see it and their friends share the video back with them and if their friends share this video back then that means it's working because of the social effects. That's just one thing and I'm trying to figure out how to retain culture and be more innovative.
Mei
That's a very good point. At the end of the day, what is the goal? I think culture is ever-changing. Back when my father started and compared to today, there are certain cultures that keep changing, and we keep improving, but the values are there, and the goal is there, which I think is really important. Now it's up to us to think of innovative ways to continue it and make it fit into today's market, right? With what you mention as an example, You used to go to the park as a part of your marketing and awareness for the business, and doing this may not be as effective as your tiktok marketing effort to reach out to the new generation. I'm sure Evelyn has encountered the same challenges given that you are in the sports media industry. I understand that the B2B approach has a different culture as well. Given that you have to work closely with the first generation and you being the second generation, what are some things that you would like to change and things that you would like to preserve in the company?
Evelyn
Thank you, Brian and the others who shared earlier. I truly learned a lot from all of you. I like what Li mentioned about how culture actually is an identity. We are able to work in our family business that has lasted over 30 years because of the culture that has been preserved from the first generations. Reminders to always are humble to our stakeholders and to the people who work with us, even to people who have not been good to us even to our competitors. Like what Claire mentioned, we also have a lot of grace for people who have worked for very long with the company, as well as the family members who have worked in a company so that's the good thing about it. But of course, there is always a way that we need to strike a balance because the market has been changing. We need to stay competitive and everyday, there is always a new competitor coming out. I feel that there's always a balance that we need to uphold, with having grace, giving a lot of opportunities, as well as second chances to know our own staff. Even to our family members who are working for the company, and to remind them of the opportunities and not to take them for granted as well. Sometimes they are not performing and my dad actually has that culture of protecting our people and always putting the relationship first thus you will never remove the person. Sometimes from a different perspective, the younger generations do not agree because we see that performance and are not satisfied because we are exposed to a lot of Western cultures. Also, probably working outside with a professional company before joining the family business, when someone's not performing we treat the matter professionally. There is no emotional consideration that because we are family, the company should make exceptions as there is that boundary. That's one thing that we need. To be professional and yet manage to keep the relationship. We always think of the moral obligation first, that they have been loyal and have helped us for many years but on the other hand, we look at their performance and willingness to learn. That's the balance we're trying to work on. On the other hand, if we push too much on being professional there's the stigma of going against our values of humility and taking care of the family which is probably the difficulty I encounter the most. Also, with the world being so much more connected and information is easily shared and consumed it is more important to keep a low profile, especially for my dad as his concern is that we are a public company and he does not want to draw unnecessary attention. Just like the Chinese proverb that says, the bigger the Tree the more wind you will attract which is what my dad believes, the virtue of humility and not showing off. This actually somehow makes marketing campaigns tougher as he thinks that being a listed company and being the chairman, we do not have to do marketing campaigns whilst our competitors are doing ads etc. so we definitely need to stay competitive, right? So in terms of innovation, this is something we're still working on. Trying to advocate the first generation this perspective of Innovating and adapting specifically in marketing, customer experience, and awareness. Yeah, those are my thoughts back to you Mei.
Mei
Thanks Evelyn for sharing with us and talking about the traditional and cultural aspects. There's definitely a lot of balancing that must be done because not all the practices can be brought forward to today's world. With the culture of giving grace and maintaining loyalty as a family, we have to find ways to work around it and have the culture preserved. It's ideal to work as a team but at the same time keep boundaries when it comes to assessing the work done. Keep the attitude that we are family and yet we need to be able to deliver results. It will always be important to find balance when it comes to culture and innovation or the introduction of a new culture to the family or company. It's this game of balancing that we're gonna talk about next, but before that let's welcome another gentleman joining us today. Xavier, it's nice to have you here with us! Would you like to say, Hi?
Xavier
Thanks, Mei! Hi, everybody. This is Xavier from Singapore, short introduction is that I'm a second generation from a construction materials family. Now I'm running the heritage family office, which is a partnership between me and a few other families from the region. We came together and formed investment arms for our families. So yeah, thanks for having me. Great sharing today.
Mei
One last question for everyone is, How do we balance preserving culture even though we already established that these practices are not perfect but must be kept while also trying to innovate and introduce a new culture in the family and company? With us being the next generation, it really is up to us to find that balance. Maybe Li, would you like to start? As you were actually able to introduce a new way of doing things to our family and business. How were you able to do that and find that balance?
Claire
With regards to balancing, to me it would be communication. Communicate with your parents and really try to understand first off, the situation before you impose anything on them. Communicate your plans and allow them to understand where you're coming from, and then from there, you can kind of understand if they will be opposed because of certain things, or maybe it was certain things that may have rubbed them off the wrong way. In this manner, you can get more information from them first before introducing a new culture to the family or to the company. That's my way of handling it. It's a very slow process because, in order to change the culture, I do believe that it takes time. Given that we're still only two generations and we don't have extended families of three to four generations it's easier to make a difference and make an impact with a smaller group of people. So yeah, that's just my two cents here.
Mei
Thanks, Li. Communication is indeed the key to starting things going. And we have Claire, what would be your take on balancing both?
Li
I think at the end of the day, it's about putting the family first and about unity. So my dad, in fact, I think today, said a lot of things in relation to moving forward. He said, "You have to make a decision because your mom and I may not understand this new generation, now you guys work." He often tells us that "Your Mom and I have tried our best so take the best that you've learned from us, and all the rubbish things, things that you don't agree with that are not good, just throw it away and don't keep it in your generation." When he says those things it kind of breaks my heart a bit. He says it out of love because He also knows that some things are probably bad habits. I think when it comes to any change, especially to a second generation we think very differently. Sometimes it takes a lot of patience to be willing to give them time to understand as well. But in all things, that's how we managed it with the family having a united front. So make suggestions and come to an agreement and even if you don't really agree with it, stick with it. From there, things will change for the better. That's my perspective. Back to you, Mei.
Mei
Thanks, Claire. Funnily enough, my dad said almost the same thing to me about him not being perfect and how he wanted me to only take the good values or good things from him and then disregard things that are bad. It's kind of funny how they have the same insight. It's what we grew up in as well so in terms of affecting change, it really is up to us. Evelyn, what do you think of balancing both?
Evelyn
Tough question, but I agree that it takes a lot of patience and a lot of work for both sides the new generations and the old generations to work together. Definitely, the base is always that respect and the core values that the old generation has set up and has shaped the company and the reason why we're here as a family. For us, it's also similar to what Brian mentioned about how we can change the culture and be innovative. I believe everything is possible if we put our heart and soul into it. It takes time and patience is very important.
Mei
I actually want to ask Brian, how did you do it? Preserve the culture whilst innovating. Did you just go ahead and do it or you slowly convinced the family? In another perspective, how are you planning to eventually do more and maybe find balance to do both?
Brian
I think what happened was that I realized that the platform I mean if we're talking about tik tok, I realized that tik tok has been transforming into more of an educational platform. I pitched it that way to my parents. Our goal is to fireproof Malaysia and in doing so, education is one of them. Tik tok is transforming into an education platform. There are influencers and content creators who create these hacks and tips-themed videos. I pitched it that way and they themselves get forwarded the Tik Tok videos all the time so they sort of had a taste of it, as well. It was not totally foreign to them so they took the chance. My Tiktok manager is actually from the clubhouse. She's here but yeah, I met her at the club house and we became friends after that. We became friends about 10 months ago, and she was looking for a job. She wanted to join and work in customer experience but realized that she can create content. She has an eye for content. She started with tik tok and now she's creating more content, photography, and everything in the works because, at the end of the day, we're trying to make the most out of everyone in the company. I think my parents did see value in that. Retaining the culture of sharing knowledge, at least in that aspect. Just feed them information from time to time and my parents seem to take it into account.
Mei
Basically time, right? Time to let them understand the new ways of doing things and feed them information. We sort of having to get them involved, and also get them to have a taste of it first before we can even convince them of the idea. Allow them to experience it from the perspective of the new generation.
Brian
Definitely. I always slowly open up to them before actually doing it. So it's not a surprise to them, right? I will tell them months in advance and after dinner time, I'll say, "Hey, I'm gonna do this, okay?" They will slowly ask when am I going to do it? So I'm slowly massaging it to them all the time, and find time to spend time with them outside of work.
Mei
Yes definitely, we've met several people here in the clubhouse that has been of great help. Jonah, thanks for joining. You want to say hi, and share with us what your take is on balancing both new and old culture.
Jonah
Hi Mei, thanks so much for having me. I haven't been in the clubhouse for the longest time. Very glad to be able to see some familiar faces like Brian, Mei, Alyssa, Lynn, and Li as well. My take on the new and old generation? Well, it has always been a challenge. My personal experience is that I've been with the family business for more than 10 years. Working with them has always had its challenges and differences in opinions. The older generation will always say, "we always used to do this and it took us many years to build this." We're in property development and it used to take 10 years for this whole area to boom and somehow we managed to do it in much less time compared to before. Having the new blood in the business in me and my sister, we were able to inject all the new things that we see outside of town and bring it in, and we give a fresh perspective on property development which is not just about building shops and selling them. It is about building a culture and building this whole concept that you want to bring in. It's only recently that we've been more active. It took me some time, but eventually, the older folks agreed to hire a social media company to help us do our social media branding. We're now quite active on Facebook. We used to just think about having our staff put out some content and now we went full on. We got a couple of viral contents and we are very happy with the results so far. Everyone's happy but it took a while and some convincing to make it happen. So yeah, that is my quick summary of my experiences working with the family and the differences in culture and innovation, from what they used to do and now what we are doing and what kind of success it has actually brought us. Back to you, Mei.
Mei
Thanks, Jonah. To summarize everything that has been shared so far, we established that preserving culture is important to maintain the essence of the family business but given today's circumstances and way of doing things, we must find a way to introduce new ideas and culture into the business so that moving forward, we may find growth. We said also that it's time and patience that are essential to affecting innovation. Communicating our ideas to the older generation and making them understand how it will benefit the company and the family given the always different perspectives and opinions. As for me, I come from a design background so when I introduced the Social Media Website Branding without having it approved first, they questioned me but when it showed results they were more lenient and accepted it. It definitely takes time to make everyone understand that the change we're introducing is not to harm the company and implement drastic changes but to improve the way we do things. Lastly, Xavier, maybe you wanna share something before we close the room?
Xavier
Thank you, Mei, and everybody for sharing. I've been listening very intently, and I think all of us would agree that this is a challenge. I do believe that there is a very large component of timing as well, right? It was my family friend who told me that at the end of the day, my parents being the first generation, they're human too. Sometimes in the course of business, it's very easy to kind of forget that. We are all about being efficient, and getting things done. Money, money, money, right? I think the timing is so important because everybody's different. The way our parents did their business in terms of how they conducted themselves, how they found success in a very different time, and dependent upon many different relationships with many different people is different from our current experiences. For us to inherit these things, we can only hear so much from them, but we were not actually there. This thinking has helped me become a lot more patient to understand that their circumstances are different and it really truly takes a lot of time. At the end of the day, we must do it first and then explain it later. As the next generation, the responsibility is on us and we have to have that commitment and the perseverance to really carry out the change that we want to bring forth into the family structure. From my own example, my mom and dad, have been doing the business for 40 years so when it came to all the capital that they have the money that they made, they just had no idea what else to do with the money except to expand the business. But being in Singapore, where the construction business has changed a lot over the last four decades if you see the photos of Singapore there are still a lot of things not built yet. Now you can't go anywhere without bumping into a building, right? So it's very different. They did amass quite a bit of capital and they had no idea what to do with the capital. So that's when the idea of coming up with an investment arm came about. But of course, they were very apprehensive at first. So what I did was with my partners, we set up, our own company account besides doing some investing and we just started to engage our parents and stakeholders. We let them know that we started investing together, just the three of us, and that was in 2012, and then by 2015, the parents were like, wow, our kids are really very serious about this. They are really putting in some time. They have a process. They're being very accountable towards things and then I think slowly, after four or five years they'd realize that my son may not see things the way we see it but we can see that over the last five years, he's created something, and he's put a lot of time and commitment to get it done and we see how it fits into the entire family structure. That's my story and I really believe in doing first, and if I need to apologize later in the day, I think the value and the best thing of being in a family business is that at its core, it's really about being a family. If your heart is in the right place, it's very difficult to fault you for trying because you begin with good intentions, and along the way, there's wisdom to be gained from learning and sharing experiences.
Mei
Thanks Xavier for the great sharing. Our topic tonight is relevant in that we are all here trying to continue a family legacy and not just a business. It's tough trying to introduce new things in a long-running family business while also maintaining the essential culture and just trying to find a balance. Given that our generation has not been just traditional and solely inclined with Asian Culture but we have also adapted the influences of the western culture as well, thus we are inclined to implement more modern ways and learn from all those so that we can effectively run our businesses. Running a family business is a marathon that calls for patience and time to go through the paces. With this clubhouse, we also have the venue to learn and get support from each other. Again, I'm grateful to everyone who made time to join us tonight. It's great to see some old faces and be able to hear from everyone as we are really just casually talking and sharing our insights and experiences. To all the ladies and the gentlemen who are here in the room, Thank you once again for being here and allowing all of us to have a space where we can share, talk and network. Hope to see everyone again next Tuesday. Have a goodnight!